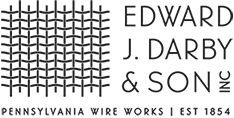 The medium wire mesh specifications featured range in opening size from approximately 1/16" to 1/64" and represent some of the more common brass wire mesh specifications that industrial customers request. These items are available from stock or can be custom manufactured, depending upon the customer's requirements. Brass mesh is popular in a wide array of general industrial applications, including air filtration, liquid separation, marine use and high-performance aerospace.
Specifications
Material

N/A

Brass

Mesh

N/A

20

Wire Diameter

N/A

0.016 in

Width of Opening

N/A

0.0340 in

Weave/Crimp Type

N/A

Plain

% of Open Area

N/A

46.24 %

Weight

N/A

0.381 lb/ft²
Additional Information
Additional Information

N/A

Brass woven wire mesh is comprised of copper and zinc. A chemical composition of 65% Copper - 35% Zinc (a.k.a., 270 Yellow Brass) is recognized as the standard for stocked wire mesh in the industry. 70% Copper - 30% Zinc (a.k.a., 260 High Brass) is typically reserved for custom manufacturing. The presence of zinc in brass wire mesh is important because it provides added abrasion resistance and allows for higher tensile strengths. And because it is primarily composed of copper, it maintains many of copper's unique characteristics, namely malleability and resistance to certain acids.

Also, due to its unique golden color and unique characteristics, brass wire mesh is used in decorative, architectural and even artistic applications.

Should you not see your preferred specification listed here, please contact us to discuss your requirements.
Popular Industries and Applications
Popular Industries and Applications

N/A

Aerospace
Marine use
High end infill panels
Room separation & dividers
Unique artistic designs
Decorative lamp shades
Decorative signage
RF amplification
Metal artisans
Ceiling panels
Air & liquid filtration
Fireplace screens
Chemical processing & diffusion
Cabinet screens
Metal castings
Power generation
Oil strainers
Plumbing Screens
Soffit screen
Gutter guards
Air Vents