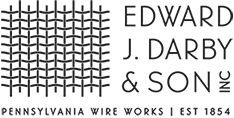 Bronze is an alloy that consists primarily of copper, and thus, it exhibits many of the same characteristics of copper, like malleability, durability and ductility. In the wire mesh industry, commercial bronze wire mesh is the alloy commonly available from stock or through custom manufacturing. Typically, commercial bronze wire mesh has a material chemical composition of: 90% Copper, 10% Zinc.
The wire mesh specifications featured here represent some of the more common bronze wire mesh specifications that industrial customers request. These items are available from stock or can be custom manufactured, depending upon the customer's requirements. Bronze mesh is popular in a wide array of general industrial applications, including filtration and marine use.
Also, due to its metallic brownish red color, bronze mesh is used in decorative, architectural and even artistic applications, including chandeliers, room dividers, decorative glass inlays and sculptures.
Add to Cart
4BZ.035PL

N/A

Bronze Wire Mesh - 4 x 4 Mesh, 0.035" Diameter Wire

N/A

4

N/A

0.035 in

N/A

0.215 in

N/A

Plain

Add to Cart

4BZ.047PL

N/A

Bronze Wire Mesh - 4 x 4 Mesh, 0.047" Diameter Wire

N/A

4

N/A

0.047 in

N/A

0.203 in

N/A

Plain

Add to Cart

4BZ.063PL

N/A

Bronze Wire Mesh - 4 x 4 Mesh, 0.063" Diameter Wire

N/A

4

N/A

0.063 in

N/A

0.187 in

N/A

Plain

Add to Cart

4BZ.080PL

N/A

Bronze Wire Mesh - 4 x 4 Mesh, 0.080" Diameter Wire

N/A

4

N/A

0.080 in

N/A

0.170 in

N/A

Plain

Add to Cart

4BZ.105PL

N/A

Bronze Wire Mesh - 4 x 4 Mesh, 0.105" Diameter Wire

N/A

4

N/A

0.105 in

N/A

0.145 in

N/A

Plain

Add to Cart

6BZ.028PL

N/A

Bronze Wire Mesh - 6 x 6 Mesh, 0.028" Diameter Wire

N/A

6

N/A

0.028 in

N/A

0.139 in

N/A

Plain

Add to Cart

6BZ.032PL

N/A

Bronze Wire Mesh - 6 x 6 Mesh, 0.032" Diameter Wire

N/A

6

N/A

0.032 in

N/A

0.135 in

N/A

Plain

Add to Cart

6BZ.035PL

N/A

Bronze Wire Mesh - 6 x 6 Mesh, 0.035" Diameter Wire

N/A

6

N/A

0.035 in

N/A

0.132 in

N/A

Plain

Add to Cart

6BZ.041PL

N/A

Bronze Wire Mesh - 6 x 6 Mesh, 0.041" Diameter Wire

N/A

6

N/A

0.041 in

N/A

0.126 in

N/A

Plain

Add to Cart

6BZ.047PL

N/A

Bronze Wire Mesh - 6 x 6 Mesh, 0.047" Diameter Wire

N/A

6

N/A

0.047 in

N/A

0.120 in

N/A

Plain

Add to Cart

8BZ.017PL

N/A

Bronze Wire Mesh - 8 x 8 Mesh, 0.017" Diameter Wire

N/A

8

N/A

0.017 in

N/A

0.108 in

N/A

Plain

Add to Cart

6BZ.063PL

N/A

Bronze Wire Mesh - 6 x 6 Mesh, 0.063" Diameter Wire

N/A

6

N/A

0.063 in

N/A

0.104 in

N/A

Plain

Add to Cart

8BZ.025PL

N/A

Bronze Wire Mesh - 8 x 8 Mesh, 0.025" Diameter Wire

N/A

8

N/A

0.025 in

N/A

0.100 in

N/A

Plain

Add to Cart

8BZ.028PL

N/A

Bronze Wire Mesh - 8 x 8 Mesh, 0.028" Diameter Wire

N/A

8

N/A

0.028 in

N/A

0.097 in

N/A

Plain

Add to Cart

8BZ.041PL

N/A

Bronze Wire Mesh - 8 x 8 Mesh, 0.041" Diameter Wire

N/A

8

N/A

0.041 in

N/A

0.084 in

N/A

Plain

Add to Cart

10BZ.020PL

N/A

Bronze Wire Mesh - 10 x 10 Mesh, 0.020" Diameter Wire

N/A

10

N/A

0.020 in

N/A

0.080 in

N/A

Plain

Add to Cart

8BZ.047PL

N/A

Bronze Wire Mesh - 8 x 8 Mesh, 0.047" Diameter Wire

N/A

8

N/A

0.047 in

N/A

0.078 in

N/A

Plain

Add to Cart

10BZ.025PL

N/A

Bronze Wire Mesh - 10 x 10 Mesh, 0.025" Diameter Wire

N/A

10

N/A

0.025 in

N/A

0.075 in

N/A

Plain

Add to Cart

10BZ.032PL

N/A

Bronze Wire Mesh - 10 x 10 Mesh, 0.032" Diameter Wire

N/A

10

N/A

0.032 in

N/A

0.068 in

N/A

Plain

Add to Cart

12BZ.020PL

N/A

Bronze Wire Mesh - 12 x 12 Mesh, 0.020" Diameter Wire

N/A

12

N/A

0.020 in

N/A

0.0633 in

N/A

Plain

Add to Cart

14BZ.010PL

N/A

Bronze Wire Mesh - 14 x 14 Mesh, 0.010" Diameter Wire

N/A

14

N/A

0.010 in

N/A

0.0619 in

N/A

Plain

Add to Cart

12BZ.023PL

N/A

Bronze Wire Mesh - 12 x 12 Mesh, 0.023" Diameter Wire

N/A

12

N/A

0.023 in

N/A

0.0603 in

N/A

Plain

Add to Cart