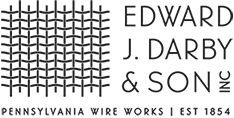 Bronze is an alloy that consists primarily of copper, and thus, it exhibits many of the same characteristics of copper, like malleability, durability and ductility. In the wire mesh industry, commercial bronze wire mesh is the alloy commonly available from stock or through custom manufacturing. Typically, commercial bronze wire mesh has a material chemical composition of: 90% Copper, 10% Zinc.
These popular bronze and phosphorous bronze mesh specifications listed here range in opening size from approximately 1/100" to 1/600" and represent some of the most fine bronze and phosphorous bronze wire meshes in the industry. These fine mesh specifications are typically reserved for high performance filtration and separation.
These very fine bronze and phosphorous bronze meshes can also be used in decorative, architectural and even artistic applications, like visual display pieces, metalsmithing, jewelry and sculptures.
Add to Cart
50BZ.009PL

N/A

Bronze Wire Mesh - 50 x 50 Mesh, 0.009" Diameter Wire

N/A

50

N/A

0.009 in

N/A

0.011 in

N/A

Plain

N/A

Please Specify Qty to be Quoted. Item will be added to Quote Cart.
Proceed to Checkout in order to submit RFQ
Add to Cart

50BZ.008PL

N/A

Bronze Wire Mesh - 50 x 50 Mesh, 0.008" Diameter Wire

N/A

50

N/A

0.008 in

N/A

0.012 in

N/A

Plain

N/A

Please Specify Qty to be Quoted. Item will be added to Quote Cart.
Proceed to Checkout in order to submit RFQ
Add to Cart

50BZ.0075PL

N/A

Bronze Wire Mesh - 50 x 50 Mesh, 0.0075" Diameter Wire

N/A

50

N/A

0.0075 in

N/A

0.013 in

N/A

Plain

N/A

Please Specify Qty to be Quoted. Item will be added to Quote Cart.
Proceed to Checkout in order to submit RFQ
Add to Cart

60BZ.0075PL

N/A

Bronze Wire Mesh - 60 x 60 Mesh, 0.0075" Diameter Wire

N/A

60

N/A

0.0075 in

N/A

0.009 in

N/A

Plain

N/A

Please Specify Qty to be Quoted. Item will be added to Quote Cart.
Proceed to Checkout in order to submit RFQ
Add to Cart

60BZ.0065PL

N/A

Bronze Wire Mesh - 60 x 60 Mesh, 0.0065" Diameter Wire

N/A

60

N/A

0.0065 in

N/A

0.010 in

N/A

Plain

N/A

Please Specify Qty to be Quoted. Item will be added to Quote Cart.
Proceed to Checkout in order to submit RFQ
Add to Cart

70BZ.0065PL

N/A

Bronze Wire Mesh - 70 x 70 Mesh, 0.0065" Diameter Wire

N/A

70

N/A

0.0065 in

N/A

0.008 in

N/A

Plain

N/A

Please Specify Qty to be Quoted. Item will be added to Quote Cart.
Proceed to Checkout in order to submit RFQ
Add to Cart

80BZ.0055PL

N/A

Bronze Wire Mesh - 80 x 80 Mesh, 0.0055" Diameter Wire

N/A

80

N/A

0.0055 in

N/A

0.007 in

N/A

Plain

N/A

Please Specify Qty to be Quoted. Item will be added to Quote Cart.
Proceed to Checkout in order to submit RFQ
Add to Cart

80BZ.005PL

N/A

Bronze Wire Mesh - 80 x 80 Mesh, 0.005" Diameter Wire

N/A

80

N/A

0.005 in

N/A

0.008 in

N/A

Plain

N/A

Please Specify Qty to be Quoted. Item will be added to Quote Cart.
Proceed to Checkout in order to submit RFQ
Add to Cart

90BZ.005PL

N/A

Bronze Wire Mesh - 90 x 90 Mesh, 0.005" Diameter Wire

N/A

90

N/A

0.005 in

N/A

0.006 in

N/A

Plain

N/A

Please Specify Qty to be Quoted. Item will be added to Quote Cart.
Proceed to Checkout in order to submit RFQ
Add to Cart

100BZ.0045PL

N/A

Bronze Wire Mesh - 100 x 100 Mesh, 0.0045" Diameter Wire

N/A

100

N/A

0.0045 in

N/A

0.006 in

N/A

Plain

N/A

Please Specify Qty to be Quoted. Item will be added to Quote Cart.
Proceed to Checkout in order to submit RFQ
Add to Cart

100BZ.004PL

N/A

Bronze Wire Mesh - 100 x 100 Mesh, 0.004" Diameter Wire

N/A

100

N/A

0.004 in

N/A

0.006 in

N/A

Plain

N/A

Please Specify Qty to be Quoted. Item will be added to Quote Cart.
Proceed to Checkout in order to submit RFQ
Add to Cart

100BZ.0035PL

N/A

Bronze Wire Mesh - 100 x 100 Mesh, 0.0035" Diameter Wire

N/A

100

N/A

0.0035 in

N/A

0.007 in

N/A

Plain

N/A

Please Specify Qty to be Quoted. Item will be added to Quote Cart.
Proceed to Checkout in order to submit RFQ
Add to Cart

60PHBZ.0075PL

N/A

Phosphorous Bronze Wire Mesh - 60 x 60 Mesh, 0.0075" Diameter Wire

N/A

60

N/A

0.0075 in

N/A

0.0092 in

N/A

Plain

N/A

Please Specify Qty to be Quoted. Item will be added to Quote Cart.
Proceed to Checkout in order to submit RFQ
Add to Cart

60PHBZ.0065PL

N/A

Phosphorous Bronze Wire Mesh - 60 x 60 Mesh, 0.0065" Diameter Wire

N/A

60

N/A

0.0065 in

N/A

0.0102 in

N/A

Plain

N/A

Please Specify Qty to be Quoted. Item will be added to Quote Cart.
Proceed to Checkout in order to submit RFQ
Add to Cart

70PHBZ.0065PL

N/A

Phosphorous Bronze Wire Mesh - 70 x 70 Mesh, 0.0065" Diameter Wire

N/A

70

N/A

0.0065 in

N/A

0.0078 in

N/A

Plain

N/A

Please Specify Qty to be Quoted. Item will be added to Quote Cart.
Proceed to Checkout in order to submit RFQ
Add to Cart

80PHBZ.0055PL

N/A

Phosphorous Bronze Wire Mesh - 80 x 80 Mesh, 0.0055" Diameter Wire

N/A

80

N/A

0.0055 in

N/A

0.0070 in

N/A

Plain

N/A

Please Specify Qty to be Quoted. Item will be added to Quote Cart.
Proceed to Checkout in order to submit RFQ
Add to Cart

80PHBZ.005PL

N/A

Phosphorous Bronze Wire Mesh - 80 x 80 Mesh, 0.005" Diameter Wire

N/A

80

N/A

0.005 in

N/A

0.0075 in

N/A

Plain

N/A

Please Specify Qty to be Quoted. Item will be added to Quote Cart.
Proceed to Checkout in order to submit RFQ
Add to Cart

90PHBZ.005PL

N/A

Phosphorous Bronze Wire Mesh - 90 x 90 Mesh, 0.005" Diameter Wire

N/A

90

N/A

0.005 in

N/A

0.0061 in

N/A

Plain

N/A

Please Specify Qty to be Quoted. Item will be added to Quote Cart.
Proceed to Checkout in order to submit RFQ
Add to Cart

100PHBZ.0045PL

N/A

Phosphorous Bronze Wire Mesh - 100 x 100 Mesh, 0.0045" Diameter Wire

N/A

100

N/A

0.0045 in

N/A

0.0055 in

N/A

Plain

N/A

Please Specify Qty to be Quoted. Item will be added to Quote Cart.
Proceed to Checkout in order to submit RFQ
Add to Cart

100PHBZ.004PL

N/A

Phosphorous Bronze Wire Mesh - 100 x 100 Mesh, 0.004" Diameter Wire

N/A

100

N/A

0.004 in

N/A

0.0060 in

N/A

Plain

N/A

Please Specify Qty to be Quoted. Item will be added to Quote Cart.
Proceed to Checkout in order to submit RFQ
Add to Cart

100PHBZ.0035PL

N/A

Phosphorous Bronze Wire Mesh - 100 x 100 Mesh, 0.0035" Diameter Wire

N/A

100

N/A

0.0035 in

N/A

0.0065 in

N/A

Plain

N/A

Please Specify Qty to be Quoted. Item will be added to Quote Cart.
Proceed to Checkout in order to submit RFQ
Add to Cart

150PHBZ.0026PL

N/A

Phosphorous Bronze Wire Mesh - 150 x 150 Mesh, 0.0026" Diameter Wire

N/A

150

N/A

0.0026 in

N/A

0.0041 in

N/A

Plain

N/A

Please Specify Qty to be Quoted. Item will be added to Quote Cart.
Proceed to Checkout in order to submit RFQ
Add to Cart

200PHBZ.0021PL

N/A

Phosphorous Bronze Wire Mesh - 200 x 200 Mesh, 0.0021" Diameter Wire

N/A

200

N/A

0.0021 in

N/A

0.0029 in

N/A

Plain

N/A

Please Specify Qty to be Quoted. Item will be added to Quote Cart.
Proceed to Checkout in order to submit RFQ
Add to Cart

250PHBZ.0016PL

N/A

Phosphorous Bronze Wire Mesh - 250 x 250 Mesh, 0.0016" Diameter Wire

N/A

250

N/A

0.0016 in

N/A

0.0024 in

N/A

Plain

N/A

Please Specify Qty to be Quoted. Item will be added to Quote Cart.
Proceed to Checkout in order to submit RFQ
Add to Cart

325PHBZ.0014PL

N/A

Phosphorous Bronze Wire Mesh - 325 x 325 Mesh, 0.0014" Diameter Wire

N/A

325

N/A

0.0014 in

N/A

0.0017 in

N/A

Plain

N/A

Please Specify Qty to be Quoted. Item will be added to Quote Cart.
Proceed to Checkout in order to submit RFQ
Add to Cart