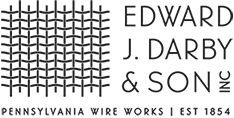 In the wire mesh industry, plain steel - or carbon steel, as it sometimes referred to - is a very popular metal that is commonly used to custom manufacture woven diamond mesh. It is comprised primarily of iron (Fe) with a small amount of carbon (C). It is a relatively low cost option that is versatile and widespread in its use.

Plain steel wire mesh, whether it is available from stock or custom manufactured, is strong, durable and magnetic. Oftentimes, it is dark in color, particularly when compared to bright aluminum or stainless steel meshes. Plain steel does not resist corrosion and will rust in most atmospheric conditions; because of this, in certain industries, plain steel wire mesh is a disposable item.

Typically, diamond mesh is custom manufactured to the exact specifications of our customers' request. Diamond mesh is manufactured on specially designed diamond mesh looms that weave mesh in a diamond orientation, as opposed to the standard square orientation. In addition to producing this unique diamond orientation, these special looms allow for weaving extremely wide widths. Diamond mesh is commonly used in infill panels, as wall partitions and window guards.
Specifications
Material

N/A

Plain Steel

Mesh

N/A

1-3/4 in

Wire Diameter

N/A

0.177 in

Width of Opening

N/A

1.75 in

% of Open Area

N/A

82.47 %

Weight

N/A

1.045 lb/ft²

Weave Type

N/A

Diamond

Note on RFQ Quantity

N/A

Please Specify Qty to be Quoted. Item will be added to Quote Cart.
Proceed to Checkout in order to submit RFQ