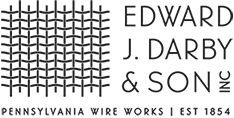 Due to its attractive price point and its corrosion resistance, galvanized wire mesh is very popular among industrial users of wire mesh. Galvanized is not a metal or alloy; it is a process in which a protective zinc coating is applied to steel to prevent rusting. In the wire mesh industry, however, it is often treated as a separate category because of its wide spread use in all types of applications.
Galvanizing can occur either before or after wire mesh is manufactured – both in woven form or welded form. Galvanized before woven wire mesh or galvanized before welded wire mesh indicates the individual wires, themselves, used to manufacture the mesh have been galvanized before the mesh is woven or welded.
On the other hand, galvanized after is manufactured (normally in carbon or plain steel) and is often placed in a galvanizing tank, thereby making this a galvanized after woven or welded specification. Generally speaking, this option is more expensive, depending on availability and other variables, but does offer a higher level of corrosion resistance. This added level of corrosion resistance is most noticeable at the joint or intersection of galvanized after welded wire mesh specification.
Specifications
Material

N/A

Galvanized Vinyl

Mesh

N/A

2 in

Wire Diameter

N/A

0.08 in

Width of Opening

N/A

1.920 in

Construction Type

N/A

Welded

% of Open Area

N/A

92.16 %

Weight

N/A

0.25 lb/ft²
Additional Information
Additional Information

N/A

Often grouped alongside galvanized wire mesh, vinyl coated wire mesh is typically used in a wide range of general purpose commercial, industrial and residential projects. Vinyl coating adds an additional protective layer of corrosion resistance. Black vinyl coated remains the most popular and is often used in caging, window and machine guards, tree and plant guards, and vent screens.

The items listed on this website represent many of the most requested specifications of galvanized wire mesh. These items are available from stock or can be custom manufactured. Should you not see your preferred specification, please contact us to discuss your requirements.
Popular Industries and Applications
Popular Industries and Applications

N/A

Fencing, caging & enclosures
Farm, garden & agricultural use
Window & safety guards
Archaeological use
Building & construction projects
Infill panels
High security applications
Landscaping & gabions
Wall & stone retention
Greenhouse use
Particle separation
General industrial use