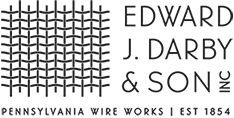 Brass woven wire mesh is a popular item used as fireplace screen. As a copper alloy, Darby's brass woven wire mesh is comprised of 65% copper and 35% zinc. The inclusion of zinc is important, particularly for fireplace fabricators, because it provides added stiffness and rigidity, compared to its softer, copper wire mesh counterpart.

Golden yellow in color, brass woven wire mesh used in fireplace screen applications, according to many customers, is preferred when added into a rustic or traditional setting. Brass woven wire mesh offers a unique combination of sophistication and function and seems to be an ideal option for the customer who wants to create a look that is both distinctive and classic. Often times, customers will purchase this mesh for its extraordinary appearance and will use it to fabricate a customized, handmade fireplace screen to serve as a focal point in a home.

Over the years, this industrial brass woven wire mesh is likely to tarnish. In order to overcome this, brass wire mesh may need to be cleaned. Many of our happy customers have been successful in gently cleaning this mesh with a simple soap and water solution. Others customers think that this darkened Brass mesh creates a unique look and go as far as using certain processes to achieve an antique Brass look.
Specifications
Material

N/A

Brass

Mesh

N/A

8

Wire Diameter

N/A

0.028 in

Piece Size

N/A

3 x 3 ft

Width of Opening

N/A

0.097 in

% of Open Area

N/A

60.22 %

Weight

N/A

0.455 lb/ft²

Other Popular Lengths for Spot Quote

N/A

15 ft

25 ft

50 ft

100 ft

List Price

N/A

$84.00
Additional Information
Additional Information

N/A

When it comes to brass woven wire mesh used in fireplace screen applications, the sky is the limit. With plenty of research and some elbow grease, brass woven wire mesh can be used to create a one-of-a-kind fireplace screen. Customers, and in particular fireplace screen fabricators, tend to frame this mesh with a Brass rod or other similar frame to complete the unit.

For larger quantities of these wire mesh specifications, please contact us for a spot quote. Spot quotes allow us to provide you with the most competitive pricing, based on your required quantity. 15 ft, 25 ft, 50 ft and 100 ft Rolls represent the commonly purchased larger sized quantities. Quantity discounts are available for 3 or more 100 ft rolls.

Finally, there are a handful of different brass woven wire mesh specifications that are not featured on this webpage, but may be used and have been used by customers in the past as fireplace screen, or in similar applications. Please contact us should you have a different specification in mind.