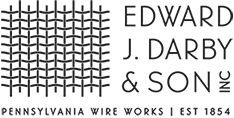 The color of bronze woven wire mesh is golden-brown with a slight tint of red, and when used in a fireplace screen application, the final look is best described as sophisticated, elegant and understated. Indeed, this particular woven wire mesh is one of Darby's best sellers for fireplace screen use in high end residences and luxury hotels.

Darby's bronze woven wire mesh, commonly used in fireplace screen applications, is comprised of 90% copper, 10% zinc, and is referred to as commercial bronze throughout the industry. Similar to brass woven wire mesh, Darby's bronze woven wire mesh is harder and stronger than its copper wire mesh counterpart on account of the inclusion of zinc. Over the years, our long-time customers have expressed their satisfaction in using this bronze wire mesh for use in one-of-a-kind fireplace screen units.
Specifications
Material

N/A

Bronze

Mesh

N/A

8

Wire Diameter

N/A

0.028 in

Piece Size

N/A

3 x 6 ft

Width of Opening

N/A

0.097 in

% of Open Area

N/A

60.22 %

Weight

N/A

0.462 lb/ft²

Other Popular Lengths for Spot Quote

N/A

15 ft

25 ft

50 ft

100 ft

List Price

N/A

$157.50
Additional Information
Additional Information

N/A

Just like copper wire mesh and brass wire mesh, Bronze Wire Mesh can be manipulated or changed to create an even more unique look. In the past we have had customers use specific chemical treatments or even take a torch to this wire mesh to create their intended look. Most popular, for these do-it-yourself customers is the use of an oil-rubbed Bronze spray paint to an antique look. Purists, on the other hand, will choose to use common, household items, like vinegar, water, flour, and/or lemon juice to remove patina and restore luster and shine.

For larger quantities of these wire mesh specifications, please contact us for a spot quote. Spot quotes allow us to provide you with the most competitive pricing, based on your required quantity. 15 ft, 25 ft, 50 ft and 100 ft Rolls represent the commonly purchased larger sized quantities. Quantity discounts are available for 3 or more 100 ft rolls.

Finally, there are a handful of different bronze woven wire mesh specifications that are not featured on this webpage, but may be used and have been used by customers in the past as fireplace screen, or in similar applications. Please contact us should you have a different specification in mind.