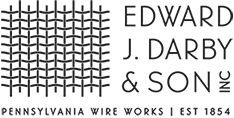 Copper woven wire mesh and other copper mesh alloys, such as brass and bronze woven wire mesh, are often used in fireplace screen applications. Copper woven wire mesh offers an ideal combination of elegance and function and is an attractive accent to a living or family room when used in a fireplace screening application. Often times, customers will purchase this mesh for its extraordinary appearance and will use it to fabricate a customized, handmade fireplace screen to serve as a focal point in a home. Reddish-orange in color, copper woven wire mesh, according to many customers, creates an antique and distinguished look to virtually any type of room.

Another advantage of copper woven wire mesh is that because it is a softer metal, it is bendable and malleable, particularly when compared to steel or stainless steel. Copper mesh, when bent, will not spring back, and because of this, it can be used in more intricate design configurations. Throughout the years, fireplace fabricators have used a number of techniques to fasten this mesh to a frame; perhaps the most popular is lacing or tying this mesh to a frame using wire.
Specifications
Material

N/A

Copper

Mesh

N/A

8

Wire Diameter

N/A

0.028 in

Piece Size

N/A

4 x 8 ft

Width of Opening

N/A

0.097 in

% of Open Area

N/A

60.22 %

Weight

N/A

0.471 lb/ft²

Other Popular Lengths for Spot Quote

N/A

25 ft

50 ft

100 ft

List Price

N/A

$257.25
Additional Information
Additional Information

N/A

The unique color of copper woven wire mesh, whether used in fireplace screen or other applications, is also intriguing to users desiring a one-of-a-kind look. The color of copper woven wire mesh can be enhanced or changed; naturally, once Copper oxidizes, it takes on a patina. A torch can also help in achieving a patina. Additionally, we have had customers inform us that, after purchasing this mesh, that they were able to enhance the overall brightness of copper by using a homemade salt and vinegar solution. To that end, there are various solutions and chemicals available that can be used to alter or enhance the color of copper wire mesh.

For larger quantities of these wire mesh specifications, please contact us for a spot quote. Spot quotes allow us to provide you with the most competitive pricing, based on your required quantity. 15 ft, 25 ft, 50 ft and 100 ft Rolls represent the commonly purchased larger sized quantities. Quantity discounts are available for 3 or more 100 ft rolls.

Finally, there are a handful of different copper woven wire mesh specifications that are not featured on this webpage, but may be used and have been used by customers in the past as fireplace screen, or in similar applications. Please contact us should you have a different specification in mind.