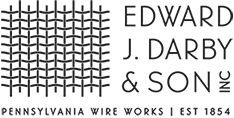 Monel 400® (International Nickel Co.) is a uniquely strong and durable material comprised primarily of Copper and Nickel. As a copper-nickel alloy, Monel 400® exhibits high strength and excellent corrosion resistance in a wide range of media, including sea water, as well as acidic and alkaline environments. Monel wire mesh specifications are often requested by naval shipyards and companies that specialize in marine technologies due to these characteristics.
In the wire mesh industry, Monel 400 wire is drawn to specific diameter wires and woven to certain specifications. Monel woven wire mesh is commonly used in high performance applications, aerospace, chemical and hydrocarbon processing equipment, as well as in valves, pumps, shafts, fittings and heat exchangers. With a few exceptions, non-industrial users rarely opt for Monel wire cloth due to its high cost and similar appearance to stainless steel.
Darby maintains one of the industry's largest and most expansive inventories of Monel 400 wire mesh – particularly in many of the standard or market grades. This inventory advantage allows us to ship stocked material out very quickly. Darby also provides custom manufactured Monel 400 wire mesh. Please contact us with your specific requirements.
Specifications
Material

N/A

Monel

Mesh

N/A

10

Wire Diameter

N/A

0.02 in

Width of Opening

N/A

0.080 in

Weave/Crimp Type

N/A

Plain

% of Open Area

N/A

64.00 %

Weight

N/A

0.294 lb/ft²

Note on RFQ Quantity

N/A

Please Specify Qty to be Quoted. Item will be added to Quote Cart.
Proceed to Checkout in order to submit RFQ
Typical Chemical Composition of Monel 400® - Commonly used in Woven Wire Mesh
Maximum Carbon (C)

N/A

0.3 %

Maximum Manganese (Mn)

N/A

2.0 %

Maximum Iron (Fe)

N/A

2.5 %

Copper (Cu)

N/A

28.0 to 34.0 %

Minimum Nickel (Ni)

N/A

63.0 %

Sulphur & Silicon (S & Si)

N/A

Traces
Additional Information
Additional Information

N/A

Our records indicate that this alloy was made readily available in the early 20th century, which is when Darby began to specialize in stocking the standard or market grade specifications of Monel 400. Darby remains a leading source for these items. Darby also maintains the capabilities to weave numerous heavy duty Monel wire mesh specifications in diameter wires as heavy as 1/4" (.250"). With access to both domestic and international mills, Darby routinely offers custom manufactured Monel 400 pre-crimped woven wire mesh.

Monel 400 woven wire mesh is generally sold in quantities less than full rolls due to the high cost and long life cycle of this alloy.

The items listed on this website represent many of the most requested specifications of Monel woven wire mesh. These items are available from stock or can be custom manufactured. Should you not see your preferred specification, please contact us to discuss your requirements.