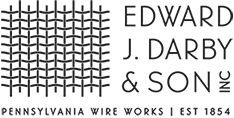 In the wire mesh industry, plain steel – or carbon steel, as it sometimes referred to—is a very popular metal that is commonly manufactured in both woven and welded wire mesh specifications. It is comprised primarily of iron (Fe) with a small amount of carbon (C). It is a relatively low cost option that is versatile and widespread in its use.
Plain steel wire mesh, whether it is available from stock or custom manufactured, is strong, durable and magnetic. Oftentimes, it is dark in color, particularly when compared to bright aluminum or stainless steel meshes. Plain steel does not resist corrosion and will rust in most atmospheric conditions; because of this, in certain industries, plain steel wire mesh is a disposable item.
Specifications
Material

N/A

Plain Steel

Mesh

N/A

30

Wire Diameter

N/A

0.012 in

Width of Opening

N/A

0.021 in

Construction Type

N/A

Plain

% of Open Area

N/A

40.96 %

Weight

N/A

0.294 lb/ft²
Additional Information
Additional Information

N/A

There are times when certain users will opt to coat a plain steel welded or woven wire mesh. This is normally considered an after-market process as there are dozens of coating options, including galvanizing, PVC or powder coating, and special paints and coatings.

The items listed on this website represent many of the most requested specifications of plain steel mesh. These items are available from stock or can be custom manufactured. Should you not see your preferred specification, please contact us to discuss your requirements.
Popular Industries and Applications
Popular Industries and Applications

N/A

Caging & enclosures
Infill panels
Separation & filtration
Window guards
Shaker screens
Cabinets & wine lockers
Grill & radiator covers
Farm & agricultural use
Oil strainers
Filtration discs
Fireplace screen
Furniture use
Architectural applications
Machine & equipment guards
Hydraulic & fuel industries
Fan guards
Decorative use
Mining industry
Heat treating
Building & construction
Coal industry
Artistic applications
Wall coverings
Security & prison