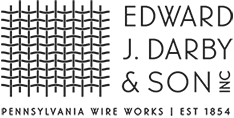 T-316 stainless steel is recognized as the second most widely available of all stainless steels in the wire mesh industry. T-316 stainless steel wire mesh is typically considered an alternative grade to T-304 stainless steel wire mesh and preferred in certain circumstances. Particularly, in marine environments and in applications requiring heavy welding, T-316 stainless steel is commonly specified due to its many benefits.

T-316 stainless steel has excellent corrosion resistance, and in particular, performs well in its ability to resist pitting and crevice corrosion in warm chloride environments. The inclusion of molybdenum (Mo) is a major factor for the improved corrosion resistance versus a T-304 SS counterpart.

Typically, diamond mesh is custom manufactured to the exact specifications of our customers' request. Diamond mesh is manufactured on specially designed diamond mesh looms that weave mesh in a diamond orientation, as opposed to the standard square orientation. In addition to producing this unique diamond orientation, these special looms allow for weaving extremely wide widths. Diamond mesh is commonly used in infill panels, as wall partitions and window guards.
Specifications
Material

N/A

T-316 Stainless Steel

Mesh

N/A

2 in

Wire Diameter

N/A

0.192 in

Width of Opening

N/A

2.00 in

% of Open Area

N/A

83.35 %

Weight

N/A

1.107 lb/ft²

Weave Type

N/A

Diamond

Note on RFQ Quantity

N/A

Please Specify Qty to be Quoted. Item will be added to Quote Cart.
Proceed to Checkout in order to submit RFQ