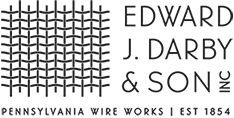 What can't wire mesh do? From gutter guards, to soffit screen, from chimney caps to small garden projects, there are dozens of uses for wire mesh around the house. In fact, it would be impossible to list all of the wire mesh specifications that customers use in and around the home.

Galvanized mesh - and in particular galvanized hardware cloth - is an extremely versatile industrial product that is often used in garden projects, in soffit screen and in related uses.

Featured here, please find some of the popular items customers tend to use around the house.
Add to Cart
2"x4"GA.105WD

N/A

Galvanized Wire Mesh: Popular around the House

N/A

N/A

N/A

N/A

N/A

Please Specify Qty to be Quoted. Item will be added to Quote Cart.
Proceed to Checkout in order to submit RFQ
Add to Cart

2"GA.099WD

N/A

Galvanized Wire Mesh – 2" x 2" Mesh, 0.099" Diameter Wire

N/A

2 in

N/A

0.099 in

N/A

1.901 in

N/A

N/A

Please Specify Qty to be Quoted. Item will be added to Quote Cart.
Proceed to Checkout in order to submit RFQ
Add to Cart

1GA.080WD

N/A

Galvanized Wire Mesh - 1 x 1" Mesh 0.080" Diameter Wire

N/A

1 in

N/A

0.080 in

N/A

0.920 in

N/A

N/A

Please Specify Qty to be Quoted. Item will be added to Quote Cart.
Proceed to Checkout in order to submit RFQ
Add to Cart

1GA.063WD

N/A

Galvanized Wire Mesh - 1 x 1" Mesh 0.063" Diameter Wire

N/A

1 in

N/A

0.063 in

N/A

0.937 in

N/A

N/A

Please Specify Qty to be Quoted. Item will be added to Quote Cart.
Proceed to Checkout in order to submit RFQ
Add to Cart

1"x2"VI.080WD

N/A

Galvanized Vinyl Coated Wire Mesh - 1" x 2" Mesh, 0.080" Diameter Wire

N/A

1 x 2 in

N/A

0.08 in

N/A

0.920 x 1.92 in

N/A

N/A

Please Specify Qty to be Quoted. Item will be added to Quote Cart.
Proceed to Checkout in order to submit RFQ
Add to Cart

1"VI.080WD

N/A

Galvanized Vinyl Coated Wire Mesh - 1" x 1" Mesh, 0.080" Diameter Wire

N/A

1 in

N/A

0.08 in

N/A

0.920 in

N/A

N/A

Please Specify Qty to be Quoted. Item will be added to Quote Cart.
Proceed to Checkout in order to submit RFQ
Add to Cart

1"VI.063WD

N/A

Galvanized Vinyl Coated Wire Mesh - 1" x 1" Mesh, 0.063" Diameter Wire

N/A

1 in

N/A

0.063 in

N/A

0.937 in

N/A

N/A

Please Specify Qty to be Quoted. Item will be added to Quote Cart.
Proceed to Checkout in order to submit RFQ
Add to Cart

1"X2"GA.080WD

N/A

Galvanized Wire Mesh - 1" x 2" Mesh, 0.080" Diameter Wire

N/A

1 x 2 in

N/A

0.080 in

N/A

0.920 x 1.92 in

N/A

N/A

Please Specify Qty to be Quoted. Item will be added to Quote Cart.
Proceed to Checkout in order to submit RFQ
Add to Cart

2"GA.080WD

N/A

Galvanized Wire Mesh - 2" x 2" Mesh, 0.080" Diameter Wire

N/A

2 in

N/A

0.080 in

N/A

1.920 in

N/A

N/A

Please Specify Qty to be Quoted. Item will be added to Quote Cart.
Proceed to Checkout in order to submit RFQ
Add to Cart