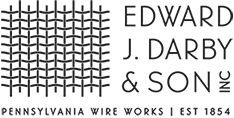 What can't wire mesh do? From gutter guards, to soffit screen, from chimney caps to small garden projects, there are dozens of uses for wire mesh around the house. In fact, it would be impossible to list all of the wire mesh specifications that customers use in and around the home.

Stainless steel welded wire mesh also works well in various applications around the house, and depending upon the quantity needed, it is often cost effective to opt for stainless steel specification.

Stainless steel and, to a lesser extent, copper are also popular for gutter guards and chimney caps. Should you have a specific application in mind, including fireplace screen, window screen and pest control, please continue to navigate our website or use the search function. Please contact us with any questions you may have.

Featured here, please find some of the popular items customers tend to use around the house.
Add to Cart
1316.080WD

N/A

T-316 Stainless Steel Wire Mesh - 1" x 1" Mesh, 0.080" Diameter Wire

N/A

1 in

N/A

0.080 in

N/A

0.920 in

N/A

Add to Cart

2316.063WD

N/A

Stainless Steel Welded Wire Mesh - 2 x 2 Mesh, 0.063" Diameter Wire

N/A

2

N/A

0.063 in

N/A

0.437 in

N/A

Add to Cart

2316.047WD

N/A

Stainless Steel Welded Wire Mesh - 2 x 2 Mesh, 0.047" Diameter Wire

N/A

2

N/A

0.047 in

N/A

0.453 in

N/A

Add to Cart