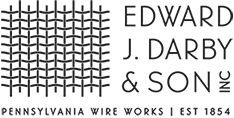 Golden brown with red tint, bronze woven diamond mesh is a popular item for use in a wide array of decorative applications, including cabinetry and wine lockers. Many of Darby's customers use wire mesh to transform an ordinary room into a special place. Our customers tend to be very creative and talented and have been known to alter the color and hue of this industrial mesh using a wide array of after-market processes.
This bronze wire mesh features a ¾" diamond mesh opening size with a diameter wire of .080". Many other suppliers of this mesh use a thinner diameter wire, .063", but in our experience as industry leaders for over 160 years, the .080" diameter produces a higher quality product.
Darby currently offers conveniently sized pieces of: 16" x 50" , 20" x 46" , 24" x 42" and 30" x 36" and ship flat via UPS Ground with added packing. Currently, we are proud to offer FREE SHIPPING on Bronze Diamond Mesh when ordered online. Please note that we are unable to service customers in Alaska, Hawaii, or those outside of the United States.
If you require more than 6 sheets, please be sure to contact us for a spot quote.