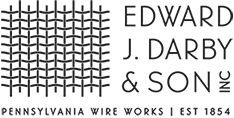 Brass woven wire mesh is comprised of copper and zinc. A chemical composition of 65% Copper - 35% Zinc (a.k.a., 270 Yellow Brass) is recognized as the standard for stocked wire mesh in the industry. 70% Copper – 30% Zinc (a.k.a., 260 High Brass) is typically reserved for custom manufacturing. The presence of zinc in brass wire mesh is important because it provides added abrasion resistance and allows for higher tensile strengths. Because brass mesh is primarily composed of copper, it maintains many of copper's unique characteristics, namely softness, malleability and resistance to certain acids.
The wire mesh specifications featured here represent some of the more common brass wire mesh specifications that industrial customers request. These items are available from stock or can be custom manufactured, depending upon the customer's requirements. Brass mesh is popular in a wide array of general industrial applications, including air filtration, liquid separation, marine use and high-performance aerospace.
Also, due to its unique golden color and unique characteristics, brass wire mesh is used in decorative, architectural and even artistic applications.
Add to Cart
12BRS.028PL

N/A

Brass Wire Mesh - 12 x 12 Mesh, 0.028" Diameter Wire

N/A

12

N/A

0.028 in

N/A

0.0553 in

N/A

Plain

Add to Cart

14BRS.017PL

N/A

Brass Wire Mesh - 14 x 14 Mesh, 0.017" Diameter Wire

N/A

14

N/A

0.017 in

N/A

0.0544 in

N/A

Plain

Add to Cart

16BRS.011PL

N/A

Brass Wire Mesh - 16 x 16 Mesh, 0.011" Diameter Wire

N/A

16

N/A

0.011 in

N/A

0.0515 in

N/A

Plain

Add to Cart

14BRS.020PL

N/A

Brass Wire Mesh - 14 x 14 Mesh, 0.020" Diameter Wire

N/A

14

N/A

0.020 in

N/A

0.0514 in

N/A

Plain

Add to Cart

16BRS.014PL

N/A

Brass Wire Mesh - 16 x 16 Mesh, 0.014" Diameter Wire

N/A

16

N/A

0.014 in

N/A

0.0485 in

N/A

Plain

Add to Cart

14BRS.023PL

N/A

Brass Wire Mesh - 14 x 14 Mesh, 0.023" Diameter Wire

N/A

14

N/A

0.023 in

N/A

0.0484 in

N/A

Plain

Add to Cart

12BRS.035PL

N/A

Brass Wire Mesh - 12 x 12 Mesh, 0.035" Diameter Wire

N/A

12

N/A

0.035 in

N/A

0.0483 in

N/A

Plain

Add to Cart

16BRS.016PL

N/A

Brass Wire Mesh - 16 x 16 Mesh, 0.016" Diameter Wire

N/A

16

N/A

0.016 in

N/A

0.0465 in

N/A

Plain

Add to Cart

14BRS.025PL

N/A

Brass Wire Mesh - 14 x 14 Mesh, 0.025" Diameter Wire

N/A

14

N/A

0.025 in

N/A

0.0464 in

N/A

Plain

Add to Cart

18BRS.010PL

N/A

Brass Wire Mesh - 18 x 18 Mesh, 0.010" Diameter Wire

N/A

18

N/A

0.010 in

N/A

0.0456 in

N/A

Plain

Add to Cart

18BRS.011PL

N/A

Brass Wire Mesh - 18 x 18 Mesh, 0.011" Diameter Wire

N/A

18

N/A

0.011 in

N/A

0.0446 in

N/A

Plain

Add to Cart

16BRS.018PL

N/A

Brass Wire Mesh - 16 x 16 Mesh, 0.018" Diameter Wire

N/A

16

N/A

0.018 in

N/A

0.0445 in

N/A

Plain

Add to Cart

16BRS.020PL

N/A

Brass Wire Mesh - 16 x 16 Mesh, 0.020" Diameter Wire

N/A

16

N/A

0.020 in

N/A

0.0425 in

N/A

Plain

Add to Cart

18BRS.015PL

N/A

Brass Wire Mesh - 18 x 18 Mesh, 0.015" Diameter Wire

N/A

18

N/A

0.015 in

N/A

0.0406 in

N/A

Plain

Add to Cart

20BRS.010PL

N/A

Brass Wire Mesh - 20 x 20 Mesh, 0.010" Diameter Wire

N/A

20

N/A

0.010 in

N/A

0.0400 in

N/A

Plain

Add to Cart

16BRS.023PL

N/A

Brass Wire Mesh - 16 x 16 Mesh, 0.023" Diameter Wire

N/A

16

N/A

0.023 in

N/A

0.0395 in

N/A

Plain

Add to Cart

18BRS.017PL

N/A

Brass Wire Mesh - 18 x 18 Mesh, 0.017" Diameter Wire

N/A

18

N/A

0.017 in

N/A

0.0386 in

N/A

Plain

Add to Cart

18BRS.018PL

N/A

Brass Wire Mesh - 18 x 18 Mesh, 0.018" Diameter Wire

N/A

18

N/A

0.018 in

N/A

0.0376 in

N/A

Plain

Add to Cart

16BRS.025PL

N/A

Brass Wire Mesh - 16 x 16 Mesh, 0.025" Diameter Wire

N/A

16

N/A

0.025 in

N/A

0.0375 in

N/A

Plain

Add to Cart

20BRS.013PL

N/A

Brass Wire Mesh - 20 x 20 Mesh, 0.013" Diameter Wire

N/A

20

N/A

0.013 in

N/A

0.0370 in

N/A

Plain

Add to Cart

20BRS.014PL

N/A

Brass Wire Mesh - 20 x 20 Mesh, 0.014" Diameter Wire

N/A

20

N/A

0.014 in

N/A

0.0360 in

N/A

Plain

Add to Cart

18BRS.020PL

N/A

Brass Wire Mesh - 18 x 18 Mesh, 0.020" Diameter Wire

N/A

18

N/A

0.020 in

N/A

0.0356 in

N/A

Plain

Add to Cart

16BRS.028PL

N/A

Brass Wire Mesh - 16 x 16 Mesh, 0.028" Diameter Wire

N/A

16

N/A

0.028 in

N/A

0.0345 in

N/A

Plain

Add to Cart

24BRS.0075PL

N/A

Brass Wire Mesh - 24 x 24 Mesh, 0.0075" Diameter Wire

N/A

24

N/A

0.0075 in

N/A

0.0342 in

N/A

Plain

Add to Cart

20BRS.016PL

N/A

Brass Wire Mesh - 20 x 20 Mesh, 0.016" Diameter Wire

N/A

20

N/A

0.016 in

N/A

0.0340 in

N/A

Plain

Add to Cart