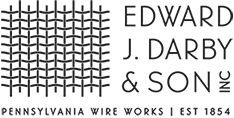 Due to its attractive price point and its corrosion resistance, galvanized wire mesh is very popular among industrial users of wire mesh. Galvanized is not a metal or alloy; it is a process in which a protective zinc coating is applied to steel to prevent rusting. In the wire mesh industry, however, it is often treated as a separate category because of its wide spread use in all types of applications.
The galvanized wire mesh specifications featured here represent some of the more common items that many users select for general industrial use, including separation, filtration and sifting.
Several of the items featured here are available from stock, most notably the galvanized hardware cloth specifications. For the more discerning user in search of a particular specification not available from stock, custom manufacturing is available, provided that sufficient quantity is needed.
Add to Cart
4GA.025WD

N/A

Galvanized Wire Mesh - 4 x 4 Mesh, 0.025" Diameter Wire

N/A

4

N/A

0.025 in

N/A

0.225 in

N/A

Welded

Add to Cart

4VI.025WD

N/A

Galvanized Vinyl Coated Wire Mesh - 4 x 4 Mesh, 0.025" Diameter Wire

N/A

4

N/A

0.025 in

N/A

0.225 in

N/A

Welded

Add to Cart

4GA.028WD

N/A

Galvanized Wire Mesh - 4 x 4 Mesh, 0.028" Diameter Wire

N/A

4

N/A

0.028 in

N/A

0.222 in

N/A

Welded

Add to Cart

4GA.035PL

N/A

Galvanized Wire Mesh - 4 x 4 Mesh, 0.035" Diameter Wire

N/A

4

N/A

0.035 in

N/A

0.215 in

N/A

Plain

Add to Cart

4GA.041PL

N/A

Galvanized Wire Mesh - 4 x 4 Mesh, 0.041" Diameter Wire

N/A

4

N/A

0.041 in

N/A

0.209 in

N/A

Plain

Add to Cart

4GA.047PL

N/A

Galvanized Wire Mesh - 4 x 4 Mesh, 0.047" Diameter Wire

N/A

4

N/A

0.047 in

N/A

0.203 in

N/A

Plain

Add to Cart

4GA.063PL

N/A

Galvanized Wire Mesh - 4 x 4 Mesh, 0.063" Diameter Wire

N/A

4

N/A

0.063 in

N/A

0.187 in

N/A

Plain

Add to Cart

5GA.023PL

N/A

Galvanized Wire Mesh - 5 x 5 Mesh, 0.023" Diameter Wire

N/A

5

N/A

0.023 in

N/A

0.177 in

N/A

Plain

Add to Cart

4GA.080PL

N/A

Galvanized Wire Mesh - 4 x 4 Mesh, 0.08" Diameter Wire

N/A

4

N/A

0.08 in

N/A

0.170 in

N/A

Plain

Add to Cart

5GA.035PL

N/A

Galvanized Wire Mesh - 5 x 5 Mesh, 0.035" Diameter Wire

N/A

5

N/A

0.035 in

N/A

0.165 in

N/A

Plain

Add to Cart

5GA.047PL

N/A

Galvanized Wire Mesh - 5 x 5 Mesh, 0.047" Diameter Wire

N/A

5

N/A

0.047 in

N/A

0.153 in

N/A

Plain

Add to Cart

6GA.020PL

N/A

Galvanized Wire Mesh - 6 x 6 Mesh, 0.02" Diameter Wire

N/A

6

N/A

0.02 in

N/A

0.147 in

N/A

Plain

Add to Cart

4GA.105PL

N/A

Galvanized Wire Mesh - 4 x 4 Mesh, 0.105" Diameter Wire

N/A

4

N/A

0.105 in

N/A

0.145 in

N/A

Plain

Add to Cart

6GA.023PL

N/A

Galvanized Wire Mesh - 6 x 6 Mesh, 0.023" Diameter Wire

N/A

6

N/A

0.023 in

N/A

0.144 in

N/A

Plain

Add to Cart

6GA.028PL

N/A

Galvanized Wire Mesh - 6 x 6 Mesh, 0.028" Diameter Wire

N/A

6

N/A

0.028 in

N/A

0.139 in

N/A

Plain

Add to Cart

5GA.063PL

N/A

Galvanized Wire Mesh - 5 x 5 Mesh, 0.063" Diameter Wire

N/A

5

N/A

0.063 in

N/A

0.137 in

N/A

Plain

Add to Cart

6GA.035PL

N/A

Galvanized Wire Mesh - 6 x 6 Mesh, 0.035" Diameter Wire

N/A

6

N/A

0.035 in

N/A

0.132 in

N/A

Plain

Add to Cart

7GA.018PL

N/A

Galvanized Wire Mesh - 7 x 7 Mesh, 0.018" Diameter Wire

N/A

7

N/A

0.018 in

N/A

0.125 in

N/A

Plain

Add to Cart

6GA.047PL

N/A

Galvanized Wire Mesh - 6 x 6 Mesh, 0.047" Diameter Wire

N/A

6

N/A

0.047 in

N/A

0.120 in

N/A

Plain

Add to Cart

5GA.080PL

N/A

Galvanized Wire Mesh - 5 x 5 Mesh, 0.080" Diameter Wire

N/A

5

N/A

0.080 in

N/A

0.120 in

N/A

Plain

Add to Cart

7GA.028PL

N/A

Galvanized Wire Mesh - 7 x 7 Mesh, 0.028" Diameter Wire

N/A

7

N/A

0.028 in

N/A

0.115 in

N/A

Plain

Add to Cart

8GA.017PL

N/A

Galvanized Wire Mesh - 8 x 8 Mesh, 0.017" Diameter Wire

N/A

8

N/A

0.017 in

N/A

0.108 in

N/A

Plain

Add to Cart

6GA.063PL

N/A

Galvanized Wire Mesh - 6 x 6 Mesh, 0.063" Diameter Wire

N/A

6

N/A

0.063 in

N/A

0.104 in

N/A

Plain

Add to Cart

8GA.025PL

N/A

Galvanized Wire Mesh - 8 x 8 Mesh, 0.025" Diameter Wire

N/A

8

N/A

0.025 in

N/A

0.100 in

N/A

Plain

Add to Cart

8GA.028PL

N/A

Galvanized Wire Mesh - 8 x 8 Mesh, 0.028" Diameter Wire

N/A

8

N/A

0.028 in

N/A

0.097 in

N/A

Plain

Add to Cart