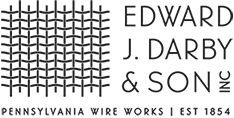 Due to its attractive price point and its corrosion resistance, galvanized wire mesh is very popular among industrial users of wire mesh. Galvanized is not a metal or alloy; it is a process in which a protective zinc coating is applied to steel to prevent rusting. In the wire mesh industry, however, it is often treated as a separate category because of its wide spread use in all types of applications.
The items listed here are extremely popular among all types of users, especially those in the agricultural and construction industries. Of course, due to versatility of these items, some of these items are used by home owners for residential projects like window guards, soffit screens, gutter guards and various landscape projects.
Several of the items featured here are available from stock, while others can be quickly manufactured to a customer's requirements. Generally speaking, stocked items are available for purchase in 100' rolls by various widths, such as 36", 48", 60" and 72" wide. Custom manufactured items are usually produced in sheet form; 4 FT x 8FT and 4FT x 10FT are popular, but other options are possible.
Add to Cart
1GA.063WD

N/A

Galvanized Wire Mesh - 1 x 1" Mesh 0.063" Diameter Wire

N/A

1 in

N/A

0.063 in

N/A

0.937 in

N/A

Welded

Add to Cart

1"VI.063WD

N/A

Galvanized Vinyl Coated Wire Mesh - 1" x 1" Mesh, 0.063" Diameter Wire

N/A

1 in

N/A

0.063 in

N/A

0.937 in

N/A

Welded

Add to Cart

1"x2"VI.080WD

N/A

Galvanized Vinyl Coated Wire Mesh - 1" x 2" Mesh, 0.080" Diameter Wire

N/A

1 x 2 in

N/A

0.08 in

N/A

0.920 x 1.92 in

N/A

Welded

Add to Cart

1"X2"GA.080WD

N/A

Galvanized Wire Mesh - 1" x 2" Mesh, 0.080" Diameter Wire

N/A

1 x 2 in

N/A

0.080 in

N/A

0.920 x 1.92 in

N/A

Welded

Add to Cart

1"VI.080WD

N/A

Galvanized Vinyl Coated Wire Mesh - 1" x 1" Mesh, 0.080" Diameter Wire

N/A

1 in

N/A

0.08 in

N/A

0.920 in

N/A

Welded

Add to Cart

1GA.080WD

N/A

Galvanized Wire Mesh - 1 x 1" Mesh 0.080" Diameter Wire

N/A

1 in

N/A

0.080 in

N/A

0.920 in

N/A

Welded

Add to Cart

1GA.099WD

N/A

Galvanized Wire Mesh - 1 x 1" Mesh 0.099" Diameter Wire

N/A

1 in

N/A

0.099 in

N/A

0.901 in

N/A

Welded

Add to Cart

1"VI.099WD

N/A

Galvanized Vinyl Coated Wire Mesh - 1" x 1" Mesh, 0.099" Diameter Wire

N/A

1 in

N/A

0.099 in

N/A

0.901 in

N/A

Welded

Add to Cart

1GA.120WD

N/A

Galvanized Wire Mesh - 1 x 1" Mesh 0.120" Diameter Wire

N/A

1 in

N/A

0.120 in

N/A

0.880 in

N/A

Welded

Add to Cart

1GA.120IN

N/A

Galvanized Wire Mesh - 1 x 1" Mesh 0.120" Diameter Wire

N/A

1 in

N/A

0.120 in

N/A

0.880 in

N/A

Intercrimp/Lock

Add to Cart

1GA.135WD

N/A

Galvanized Wire Mesh - 1 x 1" Mesh 0.135" Diameter Wire

N/A

1 in

N/A

0.135 in

N/A

0.865 in

N/A

Welded

Add to Cart

1GA.135IN

N/A

Galvanized Wire Mesh - 1 x 1" Mesh 0.135" Diameter Wire

N/A

1 in

N/A

0.135 in

N/A

0.865 in

N/A

Intercrimp/Lock

Add to Cart

1GA.148IN

N/A

Galvanized Wire Mesh - 1 x 1" Mesh 0.148" Diameter Wire

N/A

1 in

N/A

0.148 in

N/A

0.852 in

N/A

Intercrimp/Lock

Add to Cart

1GA.162IN

N/A

Galvanized Wire Mesh - 1 x 1" Mesh 0.162" Diameter Wire

N/A

1 in

N/A

0.162 in

N/A

0.838 in

N/A

Intercrimp/Lock

Add to Cart

1GA.187IN

N/A

Galvanized Wire Mesh - 1 x 1" Mesh 0.187" Diameter Wire

N/A

1 in

N/A

0.187 in

N/A

0.813 in

N/A

Intercrimp/Lock

Add to Cart

3/4"GA.063WD

N/A

Galvanized Wire Mesh - 3/4 x 3/4" Mesh 0.063" Diameter Wire

N/A

3/4 in

N/A

0.063 in

N/A

0.687 in

N/A

Welded

Add to Cart

3/4"GA.063IN

N/A

Galvanized Wire Mesh - 3/4 x 3/4" Mesh 0.063" Diameter Wire

N/A

3/4 in

N/A

0.063 in

N/A

0.687 in

N/A

Intercrimp/Lock

Add to Cart

3/4"GA.080PL

N/A

Galvanized Wire Mesh - 3/4 x 3/4" Mesh 0.080" Diameter Wire

N/A

3/4 in

N/A

0.080 in

N/A

0.670 in

N/A

Plain

Add to Cart

3/4"GA.080IN

N/A

Galvanized Wire Mesh - 3/4 x 3/4" Mesh 0.080" Diameter Wire

N/A

3/4 in

N/A

0.080 in

N/A

0.670 in

N/A

Intercrimp/Lock

Add to Cart

2GA.035WD

N/A

Galvanized Wire Mesh - 2 x 2 Mesh, 0.035" Diameter Wire

N/A

2

N/A

0.035 in

N/A

0.465 in

N/A

Welded

Add to Cart

2GA.041WD

N/A

Galvanized Wire Mesh - 2 x 2 Mesh, 0.041" Diameter Wire

N/A

2

N/A

0.041 in

N/A

0.459 in

N/A

Welded

Add to Cart

2VI.041WD

N/A

Galvanized Vinyl Coated Wire Mesh - 2 x 2 Mesh, 0.041" Diameter Wire

N/A

2

N/A

0.041 in

N/A

0.459 in

N/A

Welded

Add to Cart

2GA.047WD

N/A

Galvanized Wire Mesh - 2 x 2 Mesh, 0.047" Diameter Wire

N/A

2

N/A

0.047 in

N/A

0.453 in

N/A

Welded

Add to Cart

2GA.047IN

N/A

Galvanized Wire Mesh - 2 x 2 Mesh, 0.047" Diameter Wire

N/A

2

N/A

0.047 in

N/A

0.453 in

N/A

Intercrimp/Lock

Add to Cart

2GA.047PL

N/A

Galvanized Wire Mesh - 2 x 2 Mesh, 0.047" Diameter Wire

N/A

2

N/A

0.047 in

N/A

0.453 in

N/A

Plain

Add to Cart