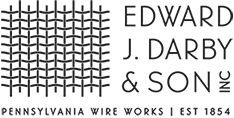 Copper wire mesh is ductile, malleable and has high thermal and electrical conductivity. Because of these unique characteristics, it is often used as RFI shielding, in Faraday Cages, in roofing, in HVAC and in countless electrical-based applications. Without a doubt, copper wire mesh is critical to many industries, and it is often at the center of technological advancements in a broad range of fields.
The wire mesh specifications featured here represent some of the more common copper wire mesh specifications that industrial customers request. These items are available from stock or can be custom manufactured, depending upon the customer's requirements. Copper mesh is popular in a wide array of general industrial applications, including electrical and thermal conductivity and filtration.
Also, due to its remarkable dark-amber color, copper wire mesh is used in decorative, architectural and even artistic applications, including insect screen, wall panels and visual displays.
Add to Cart
4CU.035PL

N/A

Copper Wire Mesh - 4 x 4 Mesh, 0.035" Diameter Wire

N/A

4

N/A

0.035 in

N/A

0.215 in

N/A

Plain

Add to Cart

3CU.120PL

N/A

Copper Wire Mesh - 3 x 3 Mesh, 0.120" Diameter Wire

N/A

3

N/A

0.120 in

N/A

0.213 in

N/A

Plain

Add to Cart

4CU.047PL

N/A

Copper Wire Mesh - 4 x 4 Mesh, 0.047" Diameter Wire

N/A

4

N/A

0.047 in

N/A

0.203 in

N/A

Plain

Add to Cart

4CU.063PL

N/A

Copper Wire Mesh - 4 x 4 Mesh, 0.063" Diameter Wire

N/A

4

N/A

0.063 in

N/A

0.187 in

N/A

Plain

Add to Cart

4CU.080PL

N/A

Copper Wire Mesh - 4 x 4 Mesh, 0.080" Diameter Wire

N/A

4

N/A

0.080 in

N/A

0.170 in

N/A

Plain

Add to Cart

5CU.035PL

N/A

Copper Wire Mesh - 5 x 5 Mesh, 0.035" Diameter Wire

N/A

5

N/A

0.035 in

N/A

0.165 in

N/A

Plain

Add to Cart

5CU.047PL

N/A

Copper Wire Mesh - 5 x 5 Mesh, 0.047" Diameter Wire

N/A

5

N/A

0.047 in

N/A

0.153 in

N/A

Plain

Add to Cart

6CU.020PL

N/A

Copper Wire Mesh - 6 x 6 Mesh, 0.020" Diameter Wire

N/A

6

N/A

0.020 in

N/A

0.147 in

N/A

Plain

Add to Cart

4CU.105PL

N/A

Copper Wire Mesh - 4 x 4 Mesh, 0.105" Diameter Wire

N/A

4

N/A

0.105 in

N/A

0.145 in

N/A

Plain

Add to Cart

6CU.028PL

N/A

Copper Wire Mesh - 6 x 6 Mesh, 0.028" Diameter Wire

N/A

6

N/A

0.028 in

N/A

0.139 in

N/A

Plain

Add to Cart

5CU.063PL

N/A

Copper Wire Mesh - 5 x 5 Mesh, 0.063" Diameter Wire

N/A

5

N/A

0.063 in

N/A

0.137 in

N/A

Plain

Add to Cart

6CU.032PL

N/A

Copper Wire Mesh - 6 x 6 Mesh, 0.032" Diameter Wire

N/A

6

N/A

0.032 in

N/A

0.135 in

N/A

Plain

Add to Cart

6CU.035PL

N/A

Copper Wire Mesh - 6 x 6 Mesh, 0.035" Diameter Wire

N/A

6

N/A

0.035 in

N/A

0.132 in

N/A

Plain

Add to Cart

6CU.041PL

N/A

Copper Wire Mesh - 6 x 6 Mesh, 0.041" Diameter Wire

N/A

6

N/A

0.041 in

N/A

0.126 in

N/A

Plain

Add to Cart

6CU.047PL

N/A

Copper Wire Mesh - 6 x 6 Mesh, 0.047" Diameter Wire

N/A

6

N/A

0.047 in

N/A

0.120 in

N/A

Plain

Add to Cart

8CU.017PL

N/A

Copper Wire Mesh - 8 x 8 Mesh, 0.017" Diameter Wire

N/A

8

N/A

0.017 in

N/A

0.108 in

N/A

Plain

Add to Cart

6CU.063PL

N/A

Copper Wire Mesh - 6 x 6 Mesh, 0.063" Diameter Wire

N/A

6

N/A

0.063 in

N/A

0.104 in

N/A

Plain

Add to Cart

7CU.041PL

N/A

Copper Wire Mesh - 7 x 7 Mesh, 0.041" Diameter Wire

N/A

7

N/A

0.041 in

N/A

0.102 in

N/A

Plain

Add to Cart

8CU.025PL

N/A

Copper Wire Mesh - 8 x 8 Mesh, 0.025" Diameter Wire

N/A

8

N/A

0.025 in

N/A

0.100 in

N/A

Plain

Add to Cart

8CU.028PL

N/A

Copper Wire Mesh - 8 x 8 Mesh, 0.028" Diameter Wire

N/A

8

N/A

0.028 in

N/A

0.097 in

N/A

Plain

Add to Cart

8CU.032PL

N/A

Copper Wire Mesh - 8 x 8 Mesh, 0.032" Diameter Wire

N/A

8

N/A

0.032 in

N/A

0.093 in

N/A

Plain

Add to Cart

8CU.041PL

N/A

Copper Wire Mesh - 8 x 8 Mesh, 0.041" Diameter Wire

N/A

8

N/A

0.041 in

N/A

0.084 in

N/A

Plain

Add to Cart

10CU.017PL

N/A

Copper Wire Mesh - 10 x 10 Mesh, 0.017" Diameter Wire

N/A

10

N/A

0.017 in

N/A

0.083 in

N/A

Plain

Add to Cart

10CU.018PL

N/A

Copper Wire Mesh - 10 x 10 Mesh, 0.018" Diameter Wire

N/A

10

N/A

0.018 in

N/A

0.082 in

N/A

Plain

Add to Cart

10CU.020PL

N/A

Copper Wire Mesh - 10 x 10 Mesh, 0.020" Diameter Wire

N/A

10

N/A

0.020 in

N/A

0.080 in

N/A

Plain

Add to Cart