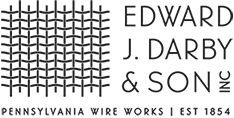 In plain steel woven wire mesh, Darby offers two mesh options that are used as fireplace screen. Generally speaking, plain steel remains the most popular and most requested material because of its strength and durability. Its dark color and mill finish create a classic and old-world look.These particular specifications, offered here, have numerous benefits:

Economical: Plain steel is among one of the most economically priced options for this type of application. Please note that, by and large, mesh pricing is based on weight of material, and heavier specifications often have a higher SQFT price.

Ease to Work With: Plain steel woven wire mesh commonly used as fireplace screen is relatively easy to work with - it can be cut with a pair of tin snips and can be bent or formed by hand. It is also rigid, stiff and strong.

Versatility: Darby's plain steel woven wire mesh is dark in color and is usually available with an ultra-light coating that will withstand rust for a short amount of time in a normal environment. After market, this wire mesh can be colored, painted or manipulated to create the desired appearance. And with available widths of 36" and 48" even larger fireplace screens can be customized.

Options: Darby's plain steel woven wire mesh commonly used in fireplace screen applications is available in two different diameter wires: 0.028" and 0.035" diameters. 0.028" is largely considered the standard and more popular, while the 0.035" is a heavier duty, even more rigid option. Selecting the appropriate diameter wire is an important decision when fabricating an entire fireplace screen unit. Usually, if a customer is looking to fasten, wrap or hinge this mesh to a frame, 0.028" diameter wire is a good choice because it is easier to work with. If, on the other hand, a customer is welding this mesh to a frame, 0.035" diameter is usually preferred, especially if extra rigidity is required.
Add to Cart
8PS.028PL-FP3X6

N/A

Plain Steel Wire Mesh - 8 x 8 Mesh, 0.028" Diameter Wire

N/A

Plain Steel

N/A

0.028 in

N/A

3 x 6 ft

N/A

$78.75

$75.00

Add to Cart

8PS.028PL-FP4X5

N/A

Plain Steel Wire Mesh - 8 x 8 Mesh, 0.028" Diameter Wire

N/A

Plain Steel

N/A

0.028 in

N/A

4 x 5 ft

N/A

$84.00

$80.00

Add to Cart

8PS.028PL-FP3X10

N/A

Plain Steel Wire Mesh - 8 x 8 Mesh, 0.028" Diameter Wire

N/A

Plain Steel

N/A

0.028 in

N/A

3 x 10 ft

N/A

$89.25

$85.00

Add to Cart

8PS.028PL-FP4X10

N/A

Plain Steel Wire Mesh - 8 x 8 Mesh, 0.028" Diameter Wire

N/A

Plain Steel

N/A

0.028 in

N/A

4 x 10 ft

N/A

$94.50

$90.00

Add to Cart

8PS.035PL-FP3X5

N/A

Plain Steel Wire Mesh - 8 x 8 Mesh, 0.035" Diameter Wire

N/A

Plain Steel

N/A

0.035 in

N/A

3 x 5 ft

N/A

$78.75

$75.00

Add to Cart

8PS.035PL-FP4X4

N/A

Plain Steel Wire Mesh - 8 x 8 Mesh, 0.035" Diameter Wire

N/A

Plain Steel

N/A

0.035 in

N/A

4 x 4 ft

N/A

$84.00

$80.00

Add to Cart

8PS.035PL-FP3X8

N/A

Plain Steel Wire Mesh - 8 x 8 Mesh, 0.035" Diameter Wire

N/A

Plain Steel

N/A

0.035 in

N/A

3 x 8 ft

N/A

$94.50

$90.00

Add to Cart

8PS.035PL-FP4X8

N/A

Plain Steel Wire Mesh - 8 x 8 Mesh, 0.035" Diameter Wire

N/A

Plain Steel

N/A

0.035 in

N/A

4 x 8 ft

N/A

$120.75

$115.00

Add to Cart