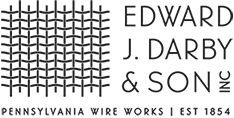 Galvanized wire mesh is preferred by large outfits that require thousands of square feet of infill panels, yet are constrained by a tight budget. Galvanized mesh is corrosion resistant by virtue of its coating and is available in both woven and welded construction.

The wire mesh specifications featured here are popularly requested items that many users select for infill panel applications. Keep in mind the list of items here is not exhaustive.

Should you not see your required specification here, please contact us to discuss your requirement or continue to browse other specifications in the mesh by material section of the website. Darby also offers custom manufacturing, which is often necessary for special requirements.
Add to Cart
2"GA.250WD-O

N/A

Galvanized Wire Mesh - 2" x 2" Opening, 0.250" Diameter Wire

N/A

N/A

0.250 in

N/A

2.000 in

N/A

Welded

Add to Cart

2"GA.250IN-O

N/A

Galvanized Wire Mesh - 2" x 2" Opening, 0.250" Diameter Wire

N/A

N/A

0.250 in

N/A

2.000 in

N/A

Intercrimp/Lock

Add to Cart

2"GA.162WD

N/A

Galvanized Wire Mesh - 2" x 2" Mesh, 0.162" Diameter Wire

N/A

2 in

N/A

0.162 in

N/A

1.838 in

N/A

Welded

Add to Cart

2"GA.162IN

N/A

Galvanized Wire Mesh - 2" x 2" Mesh, 0.162" Diameter Wire

N/A

2 in

N/A

0.162 in

N/A

1.838 in

N/A

Intercrimp/Lock

Add to Cart

2"GA.135IN

N/A

Galvanized Wire Mesh - 2" x 2" Mesh, 0.135" Diameter Wire

N/A

2 in

N/A

0.135 in

N/A

1.865 in

N/A

Intercrimp/Lock

Add to Cart

2"GA.120WD

N/A

Galvanized Wire Mesh - 2" x 2" Mesh, 0.120" Diameter Wire

N/A

2 in

N/A

0.120 in

N/A

1.880 in

N/A

Welded

Add to Cart

2"GA.120IN

N/A

Galvanized Wire Mesh - 2" x 2" Mesh, 0.120" Diameter Wire

N/A

2 in

N/A

0.120 in

N/A

1.880 in

N/A

Intercrimp/Lock

Add to Cart

2"GA.099WD

N/A

Galvanized Wire Mesh – 2" x 2" Mesh, 0.099" Diameter Wire

N/A

2 in

N/A

0.099 in

N/A

1.901 in

N/A

Welded

Add to Cart

1-1/2"GA.162IN

N/A

Galvanized Wire Mesh - 1-1/2" x 1-1/2" Mesh, 0.162" Diameter Wire

N/A

1-1/2 in

N/A

0.162 in

N/A

1.338 in

N/A

Intercrimp/Lock

Add to Cart

1-1/2"GA.120IN

N/A

Galvanized Wire Mesh - 1-1/2" x 1-1/2" Mesh, 0.120" Diameter Wire

N/A

1-1/2 in

N/A

0.120 in

N/A

1.380 in

N/A

Intercrimp/Lock

Add to Cart

1GA.120IN

N/A

Galvanized Wire Mesh - 1 x 1" Mesh 0.120" Diameter Wire

N/A

1 in

N/A

0.120 in

N/A

0.880 in

N/A

Intercrimp/Lock

Add to Cart

1GA.099WD

N/A

Galvanized Wire Mesh - 1 x 1" Mesh 0.099" Diameter Wire

N/A

1 in

N/A

0.099 in

N/A

0.901 in

N/A

Welded

Add to Cart