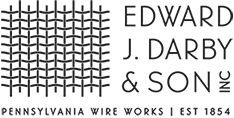 T-304 stainless steel is the most widely available of all stainless steels in the wire mesh industry. Aside from the countless combinations of mesh opening sizes and diameter wire available both from stock and through manufacturing, T-304 SS exhibits many benefits and is largely considered the standard of the industry. T-304 SS has excellent corrosion resistance in a wide range of environments and is used in a wide range of applications.
Many of the popular specifications featured here are custom manufactured. Others items are highly requested and therefore typically available from stock for immediate shipment.
These specifications are often used in numerous industrial and non-industrial applications, including general industrial use, shaker screens, heat treating, food processing, particle separation and building and construction use. Architects and commercial and residential designers also use these specifications for infill panel, ceiling panels, decorative signage, room dividers and security use. These items are also used in various fencing, caging and enclosure applications.
Add to Cart
1304.063WD

N/A

T-304 Stainless Steel Wire Mesh - 1" Mesh, 0.063" Diameter Wire

N/A

1 in

N/A

0.063 in

N/A

0.937 in

N/A

Welded

Add to Cart

1"X2"304.080WD

N/A

T-304 Stainless Steel Wire Mesh - 1" x 2" Mesh, 0.080" Diameter Wire

N/A

1 x 2 in

N/A

0.080 in

N/A

0.920 x 1.920 in

N/A

Welded

Add to Cart

1304.080WD

N/A

T-304 Stainless Steel Wire Mesh - 1" Mesh, 0.080" Diameter Wire

N/A

1 in

N/A

0.080 in

N/A

0.920 in

N/A

Welded

Add to Cart

1304.093IN

N/A

T-304 Stainless Steel Wire Mesh - 1" Mesh, 0.093" Diameter Wire

N/A

1 in

N/A

0.093 in

N/A

0.907 in

N/A

Intercrimp/Lock

Add to Cart

1304.105IN

N/A

T-304 Stainless Steel Wire Mesh - 1" Mesh, 0.105" Diameter Wire

N/A

1 in

N/A

0.105 in

N/A

0.895 in

N/A

Intercrimp/Lock

Add to Cart

1304.105WD

N/A

T-304 Stainless Steel Wire Mesh - 1" Mesh, 0.105" Diameter Wire

N/A

1 in

N/A

0.105 in

N/A

0.895 in

N/A

Welded

Add to Cart

1304.120IN

N/A

T-304 Stainless Steel Wire Mesh - 1" Mesh, 0.120" Diameter Wire

N/A

1 in

N/A

0.120 in

N/A

0.880 in

N/A

Intercrimp/Lock

Add to Cart

1304.120WD

N/A

T-304 Stainless Steel Wire Mesh - 1" Mesh, 0.120" Diameter Wire

N/A

1 in

N/A

0.120 in

N/A

0.880 in

N/A

Welded

Add to Cart

1304.135IN

N/A

T-304 Stainless Steel Wire Mesh - 1" Mesh, 0.135" Diameter Wire

N/A

1 in

N/A

0.135 in

N/A

0.865 in

N/A

Intercrimp/Lock

Add to Cart

1304.135WD

N/A

T-304 Stainless Steel Wire Mesh - 1" Mesh, 0.135" Diameter Wire

N/A

1 in

N/A

0.135 in

N/A

0.865 in

N/A

Welded

Add to Cart

1304.148WD

N/A

T-304 Stainless Steel Wire Mesh - 1" Mesh, 0.148" Diameter Wire

N/A

1 in

N/A

0.148 in

N/A

0.852 in

N/A

Welded

Add to Cart

1304.148IN

N/A

T-304 Stainless Steel Wire Mesh - 1" Mesh, 0.148" Diameter Wire

N/A

1 in

N/A

0.148 in

N/A

0.852 in

N/A

Intercrimp/Lock

Add to Cart

1304.162IN

N/A

T-304 Stainless Steel Wire Mesh - 1" Mesh, 0.162" Diameter Wire

N/A

1 in

N/A

0.162 in

N/A

0.838 in

N/A

Intercrimp/Lock

Add to Cart

1304.162PL

N/A

T-304 Stainless Steel Wire Mesh - 1" Mesh, 0.162" Diameter Wire

N/A

1 in

N/A

0.162 in

N/A

0.838 in

N/A

Plain

Add to Cart

1304.187PL

N/A

T-304 Stainless Steel Wire Mesh - 1" Mesh, 0.187" Diameter Wire

N/A

1 in

N/A

0.187 in

N/A

0.813 in

N/A

Plain

Add to Cart

1304.187IN

N/A

T-304 Stainless Steel Wire Mesh - 1" Mesh, 0.187" Diameter Wire

N/A

1 in

N/A

0.187 in

N/A

0.813 in

N/A

Intercrimp/Lock

Add to Cart

1304.192IN

N/A

T-304 Stainless Steel Wire Mesh - 1" Mesh, 0.192" Diameter Wire

N/A

1 in

N/A

0.192 in

N/A

0.808 in

N/A

Intercrimp/Lock

Add to Cart

1304.192PL

N/A

T-304 Stainless Steel Wire Mesh - 1" Mesh, 0.192" Diameter Wire

N/A

1 in

N/A

0.192 in

N/A

0.808 in

N/A

Plain

Add to Cart

1304.250PL

N/A

T-304 Stainless Steel Wire Mesh - 1" Mesh, 0.250" Diameter Wire

N/A

1 in

N/A

0.250 in

N/A

0.750 in

N/A

Contact Us

Add to Cart

3/4304.250IN-O

N/A

T-304 Stainless Steel Wire Mesh - 3/4" Open Mesh, 0.250" Diameter Wire

N/A

3/4 in. Open

N/A

0.250 in

N/A

0.750 in

N/A

Intercrimp/Lock

Add to Cart

3/4304.080IN

N/A

T-304 Stainless Steel Wire Mesh - 3/4" Mesh, 0.080" Diameter Wire

N/A

3/4 in

N/A

0.080 in

N/A

0.670 in

N/A

Intercrimp/Lock

Add to Cart

3/4304.105IN

N/A

T-304 Stainless Steel Wire Mesh - 3/4" Mesh, 0.105" Diameter Wire

N/A

3/4 in

N/A

0.105 in

N/A

0.645 in

N/A

Intercrimp/Lock

Add to Cart

3/4304.120IN

N/A

T-304 Stainless Steel Wire Mesh - 3/4" Mesh, 0.120" Diameter Wire

N/A

3/4 in

N/A

0.120 in

N/A

0.630 in

N/A

Intercrimp/Lock

Add to Cart

2304.035WD

N/A

T-304 Stainless Steel Wire Mesh - 2 x 2 Mesh, 0.035" Diameter Wire

N/A

2

N/A

0.035 in

N/A

0.465 in

N/A

Welded

Add to Cart

2304.041WD

N/A

T-304 Stainless Steel Wire Mesh - 2 x 2 Mesh, 0.041" Diameter Wire

N/A

2

N/A

0.041 in

N/A

0.459 in

N/A

Welded

Add to Cart