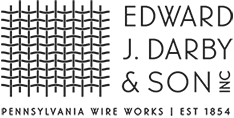 Brass woven wire mesh is comprised of copper and zinc. A chemical composition of 65% Copper - 35% Zinc (a.k.a., 270 Yellow Brass) is recognized as the standard for stocked wire mesh in the industry. 70% Copper – 30% Zinc (a.k.a., 260 High Brass) is typically reserved for custom manufacturing. The presence of zinc in brass wire mesh is important because it provides added abrasion resistance and allows for higher tensile strengths. Because brass mesh is primarily composed of copper, it maintains many of copper's unique characteristics, namely softness, malleability and resistance to certain acids.
These popular brass mesh specifications featured here represent some of the most fine brass wire meshes in the industry. These fine mesh specifications are typically reserved for high performance industrial applications, like chemical processing and filtration, or in some instances, for use in aerospace or power generation.
Due to its unique golden color and characteristics, brass wire mesh is used in decorative, architectural and even artistic applications, like lampshades, ceiling panels and jewelry.
Add to Cart
24BRS.014PL

N/A

Brass Wire Mesh - 24 x 24 Mesh, 0.014" Diameter Wire

N/A

24

N/A

0.014 in

N/A

0.0277 in

N/A

Plain

Add to Cart

24BRS.018PL

N/A

Brass Wire Mesh - 24 x 24 Mesh, 0.018" Diameter Wire

N/A

24

N/A

0.018 in

N/A

0.0237 in

N/A

Plain

Add to Cart

28BRS.012PL

N/A

Brass Wire Mesh - 28 x 28 Mesh, 0.012" Diameter Wire

N/A

28

N/A

0.012 in

N/A

0.0237 in

N/A

Plain

Add to Cart

30BRS.010PL

N/A

Brass Wire Mesh - 30 x 30 Mesh, 0.010" Diameter Wire

N/A

30

N/A

0.010 in

N/A

0.0233 in

N/A

Plain

Add to Cart

28BRS.013PL

N/A

Brass Wire Mesh - 28 x 28 Mesh, 0.013" Diameter Wire

N/A

28

N/A

0.013 in

N/A

0.0227 in

N/A

Plain

Add to Cart

30BRS.011PL

N/A

Brass Wire Mesh - 30 x 30 Mesh, 0.011" Diameter Wire

N/A

30

N/A

0.011 in

N/A

0.0223 in

N/A

Plain

Add to Cart

30BRS.012PL

N/A

Brass Wire Mesh - 30 x 30 Mesh, 0.012" Diameter Wire

N/A

30

N/A

0.012 in

N/A

0.0213 in

N/A

Plain

Add to Cart

30BRS.013PL

N/A

Brass Wire Mesh - 30 x 30 Mesh, 0.013" Diameter Wire

N/A

30

N/A

0.013 in

N/A

0.0203 in

N/A

Plain

Add to Cart

35BRS.010PL

N/A

Brass Wire Mesh - 35 x 35 Mesh, 0.010" Diameter Wire

N/A

35

N/A

0.010 in

N/A

0.0186 in

N/A

Plain

Add to Cart

40BRS.0075PL

N/A

Brass Wire Mesh - 40 x 40 Mesh, 0.0075" Diameter Wire

N/A

40

N/A

0.0075 in

N/A

0.0175 in

N/A

Plain

Add to Cart

40BRS.0085PL

N/A

Brass Wire Mesh - 40 x 40 Mesh, 0.0085" Diameter Wire

N/A

40

N/A

0.0085 in

N/A

0.0165 in

N/A

Plain

Add to Cart

40BRS.010PL

N/A

Brass Wire Mesh - 40 x 40 Mesh, 0.010" Diameter Wire

N/A

40

N/A

0.010 in

N/A

0.0150 in

N/A

Plain

Add to Cart

50BRS.0075PL

N/A

Brass Wire Mesh - 50 x 50 Mesh, 0.0075" Diameter Wire

N/A

50

N/A

0.0075 in

N/A

0.013 in

N/A

Plain

Add to Cart

50BRS.008PL

N/A

Brass Wire Mesh - 50 x 50 Mesh, 0.008" Diameter Wire

N/A

50

N/A

0.008 in

N/A

0.012 in

N/A

Plain

Add to Cart

50BRS.009PL

N/A

Brass Wire Mesh - 50 x 50 Mesh, 0.009" Diameter Wire

N/A

50

N/A

0.009 in

N/A

0.011 in

N/A

Plain

Add to Cart

60BRS.0065PL

N/A

Brass Wire Mesh - 60 x 60 Mesh, 0.0065" Diameter Wire

N/A

60

N/A

0.0065 in

N/A

0.0102 in

N/A

Plain

Add to Cart

60BRS.0075PL

N/A

Brass Wire Mesh - 60 x 60 Mesh, 0.0075" Diameter Wire

N/A

60

N/A

0.0075 in

N/A

0.0092 in

N/A

Plain

Add to Cart

70BRS.0065PL

N/A

Brass Wire Mesh - 70 x 70 Mesh, 0.0065" Diameter Wire

N/A

70

N/A

0.0065 in

N/A

0.0078 in

N/A

Plain

Add to Cart

80BRS.005PL

N/A

Brass Wire Mesh - 80 x 80 Mesh, 0.005" Diameter Wire

N/A

80

N/A

0.005 in

N/A

0.0075 in

N/A

Plain

Add to Cart

80BRS.0055PL

N/A

Brass Wire Mesh - 80 x 80 Mesh, 0.0055" Diameter Wire

N/A

80

N/A

0.0055 in

N/A

0.0070 in

N/A

Plain

Add to Cart

100BRS.0035PL

N/A

Brass Wire Mesh - 100 x 100 Mesh, 0.0035" Diameter Wire

N/A

100

N/A

0.0035 in

N/A

0.0065 in

N/A

Plain

Add to Cart

100BRS.004PL

N/A

Brass Wire Mesh - 100 x 100 Mesh, 0.004" Diameter Wire

N/A

100

N/A

0.004 in

N/A

0.0060 in

N/A

Plain

Add to Cart

100BRS.0045PL

N/A

Brass Wire Mesh - 100 x 100 Mesh, 0.0045" Diameter Wire

N/A

100

N/A

0.0045 in

N/A

0.0055 in

N/A

Plain

Add to Cart