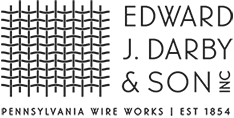 Because it is lightweight and corrosion resistant, aluminum woven wire mesh is sometimes used in trellises or critter control applications.

The wire mesh specifications featured here are popularly requested items that many users prefer in various farm, garden and agricultural applications. Keep in mind the list of items here is not exhaustive.

Should you not see your required specification here, please contact us to discuss your requirement or continue to browse other specifications in the mesh by material section of the website. Darby also offers custom manufacturing.
Add to Cart
1"AL.120IN

N/A

Aluminum Wire Mesh - 1 x 1 Mesh, 0.120" Diameter Wire

N/A

1

N/A

0.120 in

N/A

0.880 in

N/A

Intercrimp/Lock

N/A

Please Specify Qty to be Quoted. Item will be added to Quote Cart.
Proceed to Checkout in order to submit RFQ
Add to Cart

1AL.080IN

N/A

Aluminum Wire Mesh: Popular in Farm, Garden and Agricultural Use

N/A

N/A

N/A

N/A

N/A

Please Specify Qty to be Quoted. Item will be added to Quote Cart.
Proceed to Checkout in order to submit RFQ
Add to Cart

2AL.080IN

N/A

Aluminum Wire Mesh - 2 x 2 Mesh, 0.080" Diameter Wire

N/A

2

N/A

0.080 in

N/A

0.420 in

N/A

Intercrimp/Lock

N/A

Please Specify Qty to be Quoted. Item will be added to Quote Cart.
Proceed to Checkout in order to submit RFQ
Add to Cart

2AL.063IN

N/A

Aluminum Wire Mesh - 2 x 2 Mesh, 0.063" Diameter Wire

N/A

2

N/A

0.063 in

N/A

0.437 in

N/A

Intercrimp/Lock

N/A

Please Specify Qty to be Quoted. Item will be added to Quote Cart.
Proceed to Checkout in order to submit RFQ
Add to Cart

4AL.047PL

N/A

Aluminum Wire Mesh - 4 x 4 Mesh, 0.047" Diameter Wire

N/A

4

N/A

0.047 in

N/A

0.203 in

N/A

Plain

N/A

Please Specify Qty to be Quoted. Item will be added to Quote Cart.
Proceed to Checkout in order to submit RFQ
Add to Cart