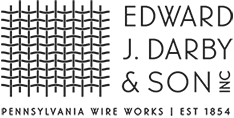 Aluminum woven wire mesh, although not as popular as some steel options, is sometimes used as a fireplace screen mesh. Aluminum woven wire mesh has a silver color that adds brightness to residential spaces and weighs about 1/3 as much as steel alternatives.

Aluminum woven wire mesh is extremely flexible and malleable, and in some cases, a customer will select this mesh to take advantage of these unique qualities at an extremely attractive price point. That said however, there are tradeoffs: Aluminum woven wire mesh is not as strong or sturdy as plain steel or stainless steel woven wire mesh. Aluminum also has a lower melting point than steel, and because welding aluminum wire mesh to aluminum frame is extremely difficult, other fastening techniques are often used.

While we at Darby do not want to discourage a customer who has a distinct vision for a complete fireplace screen unit using aluminum woven wire mesh, we do want to share this: Our customers who use an aluminum woven wire mesh tend to focus on the artistic nature and appearance of the unit. In other words, functionality, for this type of customer, is not a primary concern.
Add to Cart
8AL.028PL-FP3X6

N/A

Aluminum Wire Mesh - 8 x 8 Mesh, 0.028" Diameter Wire

N/A

Aluminum

N/A

0.028 in

N/A

3 x 6 ft

N/A

$78.75

$75.00

Add to Cart

8AL.028PL-FP4X5

N/A

Aluminum Wire Mesh - 8 x 8 Mesh, 0.028" Diameter Wire

N/A

Aluminum

N/A

0.028 in

N/A

4 x 5 ft

N/A

$84.00

$80.00

Add to Cart

8AL.028PL-FP3X10

N/A

Aluminum Wire Mesh - 8 x 8 Mesh, 0.028" Diameter Wire

N/A

Aluminum

N/A

0.028 in

N/A

3 x 10 ft

N/A

$89.25

$85.00

Add to Cart

8AL.028PL-FP4X10

N/A

Aluminum Wire Mesh - 8 x 8 Mesh, 0.028" Diameter Wire

N/A

Aluminum

N/A

0.028 in

N/A

4 x 10 ft

N/A

$99.75

$95.00

Add to Cart