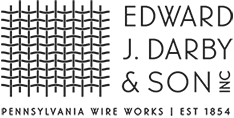 Stainless steel welded wire mesh, when used in infill panel applications, is very popular for a user looking for a clean and consistent look. Darby offers many stocked options of T-304 stainless steel welded wire mesh, including 2" x 2", 1" x 1" and 1/2" x 1/2" as well as some rectangular mesh options.

The wire mesh specifications featured here are popularly requested items that many users select for infill panel applications. Keep in mind the list of items here is not exhaustive.

Should you not see your required specification here, please contact us to discuss your requirement or continue to browse other specifications in the mesh by material section of the website. Darby also offers custom manufacturing, which is often necessary for special requirements.
Add to Cart
2"304.192WD

N/A

T-304 Stainless Steel Wire Mesh - 2" x 2" Mesh, 0.192" Diameter Wire

N/A

2 in

N/A

0.192 in

N/A

1.808 in

N/A

Welded

N/A

Please Specify Qty to be Quoted. Item will be added to Quote Cart.
Proceed to Checkout in order to submit RFQ
Add to Cart

2"304.162WD

N/A

T-304 Stainless Steel Wire Mesh - 2" x 2" Mesh, 0.162" Diameter Wire

N/A

2 in

N/A

0.162 in

N/A

1.838 in

N/A

Welded

N/A

Please Specify Qty to be Quoted. Item will be added to Quote Cart.
Proceed to Checkout in order to submit RFQ
Add to Cart

2"304.135WD

N/A

T-304 Stainless Steel Wire Mesh - 2" x 2" Mesh, 0.135" Diameter Wire

N/A

2 in

N/A

0.135 in

N/A

1.865 in

N/A

Welded

N/A

Please Specify Qty to be Quoted. Item will be added to Quote Cart.
Proceed to Checkout in order to submit RFQ
Add to Cart

2"304.120WD

N/A

T-304 Stainless Steel Wire Mesh - 2" x 2" Mesh, 0.120" Diameter Wire

N/A

2 in

N/A

0.120 in

N/A

1.880 in

N/A

Welded

N/A

Please Specify Qty to be Quoted. Item will be added to Quote Cart.
Proceed to Checkout in order to submit RFQ
Add to Cart

2"X4"304.105WD

N/A

T-304 Stainless Steel Wire Mesh - 2" x 4" Mesh, 0.105" Diameter Wire

N/A

2 x 4 in

N/A

0.105 in

N/A

1.895 x 3.895 in

N/A

Welded

N/A

Please Specify Qty to be Quoted. Item will be added to Quote Cart.
Proceed to Checkout in order to submit RFQ
Add to Cart

1"X2"304.080WD

N/A

T-304 Stainless Steel Wire Mesh - 1" x 2" Mesh, 0.080" Diameter Wire

N/A

1 x 2 in

N/A

0.080 in

N/A

0.920 x 1.920 in

N/A

Welded

N/A

Please Specify Qty to be Quoted. Item will be added to Quote Cart.
Proceed to Checkout in order to submit RFQ
Add to Cart

1-1/2"304.135WD

N/A

T-304 Stainless Steel Wire Mesh - 1-1/2" x 1-1/2" Mesh, 0.135" Diameter Wire

N/A

1.5 in

N/A

0.135 in

N/A

1.365 in

N/A

Welded

N/A

Please Specify Qty to be Quoted. Item will be added to Quote Cart.
Proceed to Checkout in order to submit RFQ
Add to Cart

1-1/2"304.120WD

N/A

T-304 Stainless Steel Wire Mesh - 1-1/2" x 1-1/2" Mesh, 0.120" Diameter Wire

N/A

1.5 in

N/A

0.120 in

N/A

1.380 in

N/A

Welded

N/A

Please Specify Qty to be Quoted. Item will be added to Quote Cart.
Proceed to Checkout in order to submit RFQ
Add to Cart

1304.135WD

N/A

T-304 Stainless Steel Wire Mesh - 1" x 1" Mesh, 0.135" Diameter Wire

N/A

1 in

N/A

0.135 in

N/A

0.865 in

N/A

Welded

N/A

Please Specify Qty to be Quoted. Item will be added to Quote Cart.
Proceed to Checkout in order to submit RFQ
Add to Cart

1304.120WD

N/A

T-304 Stainless Steel Wire Mesh - 1" x 1" Mesh, 0.120" Diameter Wire

N/A

1 in

N/A

0.120 in

N/A

0.880 in

N/A

Welded

N/A

Please Specify Qty to be Quoted. Item will be added to Quote Cart.
Proceed to Checkout in order to submit RFQ
Add to Cart

2304.063WD

N/A

Stainless Steel Welded Wire Mesh - 2 x 2 Mesh, 0.063" Diameter Wire

N/A

2

N/A

0.063 in

N/A

0.437 in

N/A

Welded

N/A

Please Specify Qty to be Quoted. Item will be added to Quote Cart.
Proceed to Checkout in order to submit RFQ
Add to Cart

1/2"x1"304.063WD

N/A

Stainless Steel Welded Wire Mesh: Popular in Infill Panel Applications

N/A

N/A

N/A

N/A

N/A

Please Specify Qty to be Quoted. Item will be added to Quote Cart.
Proceed to Checkout in order to submit RFQ
Add to Cart

2"316.192WD

N/A

T-316 Stainless Steel Wire Mesh - 2" x 2" Mesh, 0.192" Diameter Wire

N/A

2 in

N/A

0.192 in

N/A

1.808 in

N/A

Welded

N/A

Please Specify Qty to be Quoted. Item will be added to Quote Cart.
Proceed to Checkout in order to submit RFQ
Add to Cart

2"316.162WD

N/A

T-316 Stainless Steel Wire Mesh - 2" x 2" Mesh, 0.162" Diameter Wire

N/A

2 in

N/A

0.162 in

N/A

1.838 in

N/A

Welded

N/A

Please Specify Qty to be Quoted. Item will be added to Quote Cart.
Proceed to Checkout in order to submit RFQ
Add to Cart

2"316.120WD

N/A

T-316 Stainless Steel Wire Mesh - 2" x 2" Mesh, 0.120" Diameter Wire

N/A

2 in

N/A

0.120 in

N/A

1.880 in

N/A

Welded

N/A

Please Specify Qty to be Quoted. Item will be added to Quote Cart.
Proceed to Checkout in order to submit RFQ
Add to Cart

1-1/2"316.120WD

N/A

T-316 Stainless Steel Wire Mesh - 1-1/2" x 1-1/2" Mesh, 0.120" Diameter Wire

N/A

1.5 in

N/A

0.120 in

N/A

1.380 in

N/A

Welded

N/A

Please Specify Qty to be Quoted. Item will be added to Quote Cart.
Proceed to Checkout in order to submit RFQ
Add to Cart

1316.120WD

N/A

T-316 Stainless Steel Wire Mesh - 1" x 1" Mesh, 0.120" Diameter Wire

N/A

1 in

N/A

0.120 in

N/A

0.880 in

N/A

Welded

N/A

Please Specify Qty to be Quoted. Item will be added to Quote Cart.
Proceed to Checkout in order to submit RFQ
Add to Cart

2316.063WD

N/A

Stainless Steel Welded Wire Mesh - 2 x 2 Mesh, 0.063" Diameter Wire

N/A

2

N/A

0.063 in

N/A

0.437 in

N/A

Welded

N/A

Please Specify Qty to be Quoted. Item will be added to Quote Cart.
Proceed to Checkout in order to submit RFQ
Add to Cart