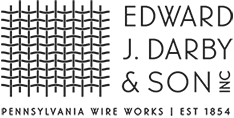 In the wire mesh industry, plain steel – or carbon steel, as it sometimes referred to—is a very popular metal that is commonly manufactured in both woven and welded wire mesh specifications. It is comprised primarily of iron (Fe) with a small amount of carbon (C). It is a relatively low cost option that is versatile and widespread in its use.
Plain steel wire mesh, whether it is available from stock or custom manufactured, is strong, durable and magnetic. Oftentimes, it is dark in color, particularly when compared to bright aluminum or stainless steel meshes. Plain steel does not resist corrosion and will rust in most atmospheric conditions; because of this, in certain industries, plain steel wire mesh is a disposable item.
These specifications are commonly used in a wide array of industrial and commercial applications, including coal and mining, shaker screens, machine and window guards, animal enclosures, infill panels and unique architectural and decorative use.
Add to Cart
1PS.135IN-O

N/A

Plain Steel Wire Mesh - 1" x 1" Opening, 0.135" Diameter Wire

N/A

1 in. Open

N/A

0.135 in

N/A

1.00 in

N/A

Intercrimp/Lock

Add to Cart

1PS.120IN-O

N/A

Plain Steel Wire Mesh - 1" x 1" Opening, 0.120" Diameter Wire

N/A

1 in. Open

N/A

0.120 in

N/A

1.00 in

N/A

Intercrimp/Lock

Add to Cart

1PS.250IN-O

N/A

Plain Steel Wire Mesh - 1" x 1" Opening, 0.250" Diameter Wire

N/A

1 in. Open

N/A

0.250 in

N/A

1.00 in

N/A

Intercrimp/Lock

Add to Cart

1PS.192IN-O

N/A

Plain Steel Wire Mesh - 1" x 1" Opening, 0.192" Diameter Wire

N/A

1 in. Open

N/A

0.192 in

N/A

1.00 in

N/A

Intercrimp/Lock

Add to Cart

1PS.080WD

N/A

Plain Steel Wire Mesh - 1" x 1" Mesh, 0.080" Diameter Wire

N/A

1 in

N/A

0.080 in

N/A

0.920 in

N/A

Welded

Add to Cart

1PS.120IN

N/A

Plain Steel Wire Mesh - 1" x 1" Mesh, 0.120" Diameter Wire

N/A

1 in

N/A

0.120 in

N/A

0.880 in

N/A

Intercrimp/Lock

Add to Cart

1PS.120WD

N/A

Plain Steel Wire Mesh - 1" x 1" Mesh, 0.120" Diameter Wire

N/A

1 in

N/A

0.120 in

N/A

0.880 in

N/A

Welded

Add to Cart

1PS.135IN

N/A

Plain Steel Wire Mesh - 1" x 1" Mesh, 0.135" Diameter Wire

N/A

1 in

N/A

0.135 in

N/A

0.865 in

N/A

Intercrimp/Lock

Add to Cart

1PS.135WD

N/A

Plain Steel Wire Mesh - 1" x 1" Mesh, 0.135" Diameter Wire

N/A

1 in

N/A

0.135 in

N/A

0.865 in

N/A

Welded

Add to Cart

1PS.192IN

N/A

Plain Steel Wire Mesh - 1" x 1" Mesh, 0.192" Diameter Wire

N/A

1 in

N/A

0.192 in

N/A

0.808 in

N/A

Intercrimp/Lock

Add to Cart

2PS.047WD

N/A

Plain Steel Wire Mesh - 2 x 2 Mesh, 0.047" Diameter Wire

N/A

2

N/A

0.047 in

N/A

0.453 in

N/A

Welded

Add to Cart

2PS.054PL

N/A

Plain Steel Wire Mesh - 2 x 2 Mesh, 0.054" Diameter Wire

N/A

2

N/A

0.054 in

N/A

0.446 in

N/A

Plain

Add to Cart

2PS.063PL

N/A

Plain Steel Wire Mesh - 2 x 2 Mesh, 0.063" Diameter Wire

N/A

2

N/A

0.063 in

N/A

0.437 in

N/A

Plain

Add to Cart

2PS.063WD

N/A

Plain Steel Wire Mesh - 2 x 2 Mesh, 0.063" Diameter Wire

N/A

2

N/A

0.063 in

N/A

0.437 in

N/A

Welded

Add to Cart

2PS.063IN

N/A

Plain Steel Wire Mesh - 2 x 2 Mesh, 0.063" Diameter Wire

N/A

2

N/A

0.063 in

N/A

0.437 in

N/A

Intercrimp/Lock

Add to Cart

2PS.080PL

N/A

Plain Steel Wire Mesh - 2 x 2 Mesh, 0.080" Diameter Wire

N/A

2

N/A

0.080 in

N/A

0.420 in

N/A

Plain

Add to Cart

2PS.080IN

N/A

Plain Steel Wire Mesh - 2 x 2 Mesh, 0.080" Diameter Wire

N/A

2

N/A

0.080 in

N/A

0.420 in

N/A

Intercrimp/Lock

Add to Cart

2PS.105IN

N/A

Plain Steel Wire Mesh - 2 x 2 Mesh, 0.105" Diameter Wire

N/A

2

N/A

0.105 in

N/A

0.395 in

N/A

Intercrimp/Lock

Add to Cart

2PS.105PL

N/A

Plain Steel Wire Mesh - 2 x 2 Mesh, 0.120" Diameter Wire

N/A

2

N/A

0.120 in

N/A

0.380 in

N/A

Plain

Add to Cart

2PS.120PL

N/A

Plain Steel Wire Mesh - 2 x 2 Mesh, 0.120" Diameter Wire

N/A

2

N/A

0.120 in

N/A

0.380 in

N/A

Plain

Add to Cart

2PS.120IN

N/A

Plain Steel Wire Mesh - 2 x 2 Mesh, 0.120" Diameter Wire

N/A

2

N/A

0.120 in

N/A

0.380 in

N/A

Intercrimp/Lock

Add to Cart

2PS.135IN

N/A

Plain Steel Wire Mesh - 2 x 2 Mesh, 0.135" Diameter Wire

N/A

2

N/A

0.135 in

N/A

0.365 in

N/A

Intercrimp/Lock

Add to Cart

2PS.135PL

N/A

Plain Steel Wire Mesh - 2 x 2 Mesh, 0.135" Diameter Wire

N/A

2

N/A

0.135 in

N/A

0.365 in

N/A

Plain

Add to Cart

3PS.047PL

N/A

Plain Steel Wire Mesh - 3 x 3 Mesh, 0.047" Diameter Wire

N/A

3

N/A

0.047 in

N/A

0.286 in

N/A

Plain

Add to Cart

3PS.063PL

N/A

Plain Steel Wire Mesh - 3 x 3 Mesh, 0.063" Diameter Wire

N/A

3

N/A

0.063 in

N/A

0.270 in

N/A

Plain

Add to Cart