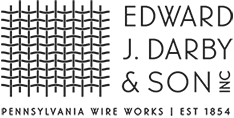 Stainless steel welded wire mesh is an extremely popular and versatile item that many different customers use for many different applications. Darby specializes in supplying high quality stainless steel welded wire mesh, available in both T-304 stainless steel and T-316 stainless steel. Stainless steel welded wire mesh is corrosion resistant, uniform in appearance and available from stock or through custom manufacturing.
The popular specifications featured here range in opening size from approximately 1/2" to 1/4" with diameter wires that are commonly used by the majority of customers. Many of these specifications are custom manufactured in roll form and in popular widths of 36", 48" and 60" wide.
Of course, these specifications are commonly used in a wide array of industrial and non-industrial applications, including animal caging, critter and varmint control, agricultural use, air vents, basket fabrication, food applications, aviary and bird screen and industrial separation.
Residential do-it-yourselfers gravitate towards these specific items because they offer tremendous value and versatility for projects around the home. In most normal environments, stainless steel will have a longer life cycle than a comparable galvanized mesh.
Add to Cart
1316.063WD

N/A

T-316 Stainless Steel Wire Mesh - 1" x 1" Mesh, 0.063" Diameter Wire

N/A

1 in

N/A

0.063 in

N/A

0.937 in

N/A

Welded

Add to Cart

1304.063WD

N/A

T-304 Stainless Steel Wire Mesh - 1" x 1" Mesh, 0.063" Diameter Wire

N/A

1 in

N/A

0.063 in

N/A

0.937 in

N/A

Welded

Add to Cart

1"X2"316.080WD

N/A

T-316 Stainless Steel Wire Mesh - 1" x 2" Mesh, 0.080" Diameter Wire

N/A

1 x 2 in

N/A

0.080 in

N/A

0.920 x 1.92 in

N/A

Welded

Add to Cart

1"X2"304.080WD

N/A

T-304 Stainless Steel Wire Mesh - 1" x 2" Mesh, 0.080" Diameter Wire

N/A

1 x 2 in

N/A

0.080 in

N/A

0.920 x 1.920 in

N/A

Welded

Add to Cart

1304.080WD

N/A

T-304 Stainless Steel Wire Mesh - 1" x 1" Mesh, 0.080" Diameter Wire

N/A

1 in

N/A

0.080 in

N/A

0.920 in

N/A

Welded

Add to Cart

1316.080WD

N/A

T-316 Stainless Steel Wire Mesh - 1" x 1" Mesh, 0.080" Diameter Wire

N/A

1 in

N/A

0.080 in

N/A

0.920 in

N/A

Welded

Add to Cart

1304.105WD

N/A

T-304 Stainless Steel Wire Mesh - 1" x 1" Mesh, 0.105" Diameter Wire

N/A

1 in

N/A

0.105 in

N/A

0.895 in

N/A

Welded

Add to Cart

1316.105WD

N/A

T-316 Stainless Steel Wire Mesh - 1" x 1" Mesh, 0.105" Diameter Wire

N/A

1 in

N/A

0.105 in

N/A

0.895 in

N/A

Welded

Add to Cart

1304.120WD

N/A

T-304 Stainless Steel Wire Mesh - 1" x 1" Mesh, 0.120" Diameter Wire

N/A

1 in

N/A

0.120 in

N/A

0.880 in

N/A

Welded

Add to Cart

1316.120WD

N/A

T-316 Stainless Steel Wire Mesh - 1" x 1" Mesh, 0.120" Diameter Wire

N/A

1 in

N/A

0.120 in

N/A

0.880 in

N/A

Welded

Add to Cart

1316.135WD

N/A

T-316 Stainless Steel Wire Mesh - 1" x 1" Mesh, 0.135" Diameter Wire

N/A

1 in

N/A

0.135 in

N/A

0.865 in

N/A

Welded

Add to Cart

1304.135WD

N/A

T-304 Stainless Steel Wire Mesh - 1" x 1" Mesh, 0.135" Diameter Wire

N/A

1 in

N/A

0.135 in

N/A

0.865 in

N/A

Welded

Add to Cart

1316.148WD

N/A

T-316 Stainless Steel Wire Mesh - 1" x 1" Mesh, 0.148" Diameter Wire

N/A

1 in

N/A

0.148 in

N/A

0.852 in

N/A

Welded

Add to Cart

1304.148WD

N/A

T-304 Stainless Steel Wire Mesh - 1" x 1" Mesh, 0.148" Diameter Wire

N/A

1 in

N/A

0.148 in

N/A

0.852 in

N/A

Welded

Add to Cart

2304.035WD

N/A

Stainless Steel Welded Wire Mesh - 2 x 2 Mesh, 0.035" Diameter Wire

N/A

2

N/A

0.035 in

N/A

0.465 in

N/A

Welded

Add to Cart

2316.035WD

N/A

Stainless Steel Welded Wire Mesh - 2 x 2 Mesh, 0.035" Diameter Wire

N/A

2

N/A

0.035 in

N/A

0.465 in

N/A

Welded

Add to Cart

2316.041WD

N/A

Stainless Steel Welded Wire Mesh - 2 x 2 Mesh, 0.041" Diameter Wire

N/A

2

N/A

0.041 in

N/A

0.459 in

N/A

Welded

Add to Cart

2304.041WD

N/A

Stainless Steel Welded Wire Mesh - 2 x 2 Mesh, 0.041" Diameter Wire

N/A

2

N/A

0.041 in

N/A

0.459 in

N/A

Welded

Add to Cart

2304.047WD

N/A

Stainless Steel Welded Wire Mesh - 2 x 2 Mesh, 0.047" Diameter Wire

N/A

2

N/A

0.047 in

N/A

0.453 in

N/A

Welded

Add to Cart

2316.047WD

N/A

Stainless Steel Welded Wire Mesh - 2 x 2 Mesh, 0.047" Diameter Wire

N/A

2

N/A

0.047 in

N/A

0.453 in

N/A

Welded

Add to Cart

2304.063WD

N/A

Stainless Steel Welded Wire Mesh - 2 x 2 Mesh, 0.063" Diameter Wire

N/A

2

N/A

0.063 in

N/A

0.437 in

N/A

Welded

Add to Cart

2316.063WD

N/A

Stainless Steel Welded Wire Mesh - 2 x 2 Mesh, 0.063" Diameter Wire

N/A

2

N/A

0.063 in

N/A

0.437 in

N/A

Welded

Add to Cart

3304.038WD

N/A

Stainless Steel Welded Wire Mesh - 3 x 3 Mesh, 0.038" Diameter Wire

N/A

3

N/A

0.038 in

N/A

0.295 in

N/A

Welded

Add to Cart

3316.038WD

N/A

Stainless Steel Welded Wire Mesh - 3 x 3 Mesh, 0.038" Diameter Wire

N/A

3

N/A

0.038 in

N/A

0.295 in

N/A

Welded

Add to Cart

3316.047WD

N/A

Stainless Steel Welded Wire Mesh - 3 x 3 Mesh, 0.047" Diameter Wire

N/A

3

N/A

0.047 in

N/A

0.286 in

N/A

Welded

Add to Cart