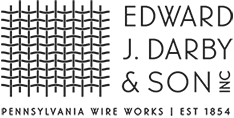 T-316 stainless steel is recognized as the second most widely available of all stainless steels in the wire mesh industry. T-316 stainless steel wire mesh is typically considered an alternative grade to T-304 stainless steel wire mesh and preferred in certain circumstances. Particularly, in marine environments and in applications requiring heavy welding, T-316 stainless steel is commonly specified due to its many benefits.
The popular specifications featured here range in opening size from approximately 1/2" to 1/4" and are commonly requested items that industrial and non-industrial users select for their specific wire mesh requirements. Many of these items are stocked in full, 100 ft rolls and can be provided in conveniently sized sheets, like 4 ft x 10 ft or 3 ft x 25 ft, for example.
Many of these meshes are specified for use in heat treating, food processing and particle separation. The automotive, refinery and marine industries routinely use many of these meshes. Architect and designers use these meshes for unique and interesting designs like infill panels, room dividers and decorative signage in environments that require better corrosion resistance than T-304 SS.
Add to Cart
2316.135PL

N/A

T-316 Stainless Steel Wire Mesh - 2 x 2 Mesh, 0.135" Diameter Wire

N/A

2

N/A

0.135 in

N/A

0.365 in

N/A

Plain

N/A

Please Specify Qty to be Quoted. Item will be added to Quote Cart.
Proceed to Checkout in order to submit RFQ
Add to Cart

2316.135IN

N/A

T-316 Stainless Steel Wire Mesh - 2 x 2 Mesh, 0.135" Diameter Wire

N/A

2

N/A

0.135 in

N/A

0.365 in

N/A

Intercrimp/Lock

N/A

Please Specify Qty to be Quoted. Item will be added to Quote Cart.
Proceed to Checkout in order to submit RFQ
Add to Cart

2316.120PL

N/A

T-316 Stainless Steel Wire Mesh - 2 x 2 Mesh, 0.120" Diameter Wire

N/A

2

N/A

0.120 in

N/A

0.380 in

N/A

Plain

N/A

Please Specify Qty to be Quoted. Item will be added to Quote Cart.
Proceed to Checkout in order to submit RFQ
Add to Cart

2316.120IN

N/A

T-316 Stainless Steel Wire Mesh - 2 x 2 Mesh, 0.120" Diameter Wire

N/A

2

N/A

0.120 in

N/A

0.380 in

N/A

Intercrimp/Lock

N/A

Please Specify Qty to be Quoted. Item will be added to Quote Cart.
Proceed to Checkout in order to submit RFQ
Add to Cart

2316.105PL

N/A

T-316 Stainless Steel Wire Mesh - 2 x 2 Mesh, 0.105" Diameter Wire

N/A

2

N/A

0.105 in

N/A

0.395 in

N/A

Plain

N/A

Please Specify Qty to be Quoted. Item will be added to Quote Cart.
Proceed to Checkout in order to submit RFQ
Add to Cart

2316.105IN

N/A

T-316 Stainless Steel Wire Mesh - 2 x 2 Mesh, 0.105" Diameter Wire

N/A

2

N/A

0.105 in

N/A

0.395 in

N/A

Intercrimp/Lock

N/A

Please Specify Qty to be Quoted. Item will be added to Quote Cart.
Proceed to Checkout in order to submit RFQ
Add to Cart

2316.080PL

N/A

T-316 Stainless Steel Wire Mesh - 2 x 2 Mesh, 0.080" Diameter Wire

N/A

2

N/A

0.080 in

N/A

0.420 in

N/A

Plain

N/A

Please Specify Qty to be Quoted. Item will be added to Quote Cart.
Proceed to Checkout in order to submit RFQ
Add to Cart

2316.080IN

N/A

T-316 Stainless Steel Wire Mesh - 2 x 2 Mesh, 0.080" Diameter Wire

N/A

2

N/A

0.080 in

N/A

0.420 in

N/A

Intercrimp/Lock

N/A

Please Specify Qty to be Quoted. Item will be added to Quote Cart.
Proceed to Checkout in order to submit RFQ
Add to Cart

2316.063PL

N/A

T-316 Stainless Steel Wire Mesh - 2 x 2 Mesh, 0.063" Diameter Wire

N/A

2

N/A

0.063 in

N/A

0.437 in

N/A

Plain

N/A

Please Specify Qty to be Quoted. Item will be added to Quote Cart.
Proceed to Checkout in order to submit RFQ
Add to Cart

2316.063IN

N/A

T-316 Stainless Steel Wire Mesh - 2 x 2 Mesh, 0.063" Diameter Wire

N/A

2

N/A

0.063 in

N/A

0.437 in

N/A

Intercrimp/Lock

N/A

Please Specify Qty to be Quoted. Item will be added to Quote Cart.
Proceed to Checkout in order to submit RFQ
Add to Cart

2316.063WD

N/A

T-316 Stainless Steel Wire Mesh - 2 x 2 Mesh, 0.063" Diameter Wire

N/A

2

N/A

0.063 in

N/A

0.437 in

N/A

Welded

N/A

Please Specify Qty to be Quoted. Item will be added to Quote Cart.
Proceed to Checkout in order to submit RFQ
Add to Cart

2316.054PL

N/A

T-316 Stainless Steel Wire Mesh - 2 x 2 Mesh, 0.054" Diameter Wire

N/A

2

N/A

0.054 in

N/A

0.446 in

N/A

Plain

N/A

Please Specify Qty to be Quoted. Item will be added to Quote Cart.
Proceed to Checkout in order to submit RFQ
Add to Cart

2316.047PL

N/A

T-316 Stainless Steel Wire Mesh - 2 x 2 Mesh, 0.047" Diameter Wire

N/A

2

N/A

0.047 in

N/A

0.453 in

N/A

Plain

N/A

Please Specify Qty to be Quoted. Item will be added to Quote Cart.
Proceed to Checkout in order to submit RFQ
Add to Cart

2316.047WD

N/A

T-316 Stainless Steel Wire Mesh - 2 x 2 Mesh, 0.047" Diameter Wire

N/A

2

N/A

0.047 in

N/A

0.453 in

N/A

Welded

N/A

Please Specify Qty to be Quoted. Item will be added to Quote Cart.
Proceed to Checkout in order to submit RFQ
Add to Cart

2316.041WD

N/A

T-316 Stainless Steel Wire Mesh - 2 x 2 Mesh, 0.041" Diameter Wire

N/A

2

N/A

0.041 in

N/A

0.459 in

N/A

Welded

N/A

Please Specify Qty to be Quoted. Item will be added to Quote Cart.
Proceed to Checkout in order to submit RFQ
Add to Cart

2316.035WD

N/A

T-316 Stainless Steel Wire Mesh - 2 x 2 Mesh, 0.035" Diameter Wire

N/A

2

N/A

0.035 in

N/A

0.465 in

N/A

Welded

N/A

Please Specify Qty to be Quoted. Item will be added to Quote Cart.
Proceed to Checkout in order to submit RFQ
Add to Cart

3316.120PL

N/A

T-316 Stainless Steel Wire Mesh - 3 x 3 Mesh, 0.120" Diameter Wire

N/A

3

N/A

0.120 in

N/A

0.213 in

N/A

Plain

N/A

Please Specify Qty to be Quoted. Item will be added to Quote Cart.
Proceed to Checkout in order to submit RFQ
Add to Cart

3316.120IN

N/A

T-316 Stainless Steel Wire Mesh - 3 x 3 Mesh, 0.120" Diameter Wire

N/A

3

N/A

0.120 in

N/A

0.213 in

N/A

Intercrimp/Lock

N/A

Please Specify Qty to be Quoted. Item will be added to Quote Cart.
Proceed to Checkout in order to submit RFQ
Add to Cart

3316.105PL

N/A

T-316 Stainless Steel Wire Mesh - 3 x 3 Mesh, 0.105" Diameter Wire

N/A

3

N/A

0.105 in

N/A

0.228 in

N/A

Plain

N/A

Please Specify Qty to be Quoted. Item will be added to Quote Cart.
Proceed to Checkout in order to submit RFQ
Add to Cart

3316.105IN

N/A

T-316 Stainless Steel Wire Mesh - 3 x 3 Mesh, 0.105" Diameter Wire

N/A

3

N/A

0.105 in

N/A

0.228 in

N/A

Intercrimp/Lock

N/A

Please Specify Qty to be Quoted. Item will be added to Quote Cart.
Proceed to Checkout in order to submit RFQ
Add to Cart

3316.092PL

N/A

T-316 Stainless Steel Wire Mesh - 3 x 3 Mesh, 0.092" Diameter Wire

N/A

3

N/A

0.092 in

N/A

0.241 in

N/A

Plain

N/A

Please Specify Qty to be Quoted. Item will be added to Quote Cart.
Proceed to Checkout in order to submit RFQ
Add to Cart

3316.092IN

N/A

T-316 Stainless Steel Wire Mesh - 3 x 3 Mesh, 0.092" Diameter Wire

N/A

3

N/A

0.092 in

N/A

0.241 in

N/A

Intercrimp/Lock

N/A

Please Specify Qty to be Quoted. Item will be added to Quote Cart.
Proceed to Checkout in order to submit RFQ
Add to Cart

3316.080PL

N/A

T-316 Stainless Steel Wire Mesh - 3 x 3 Mesh, 0.080" Diameter Wire

N/A

3

N/A

0.080 in

N/A

0.253 in

N/A

Plain

N/A

Please Specify Qty to be Quoted. Item will be added to Quote Cart.
Proceed to Checkout in order to submit RFQ
Add to Cart

3316.063PL

N/A

T-316 Stainless Steel Wire Mesh - 3 x 3 Mesh, 0.063" Diameter Wire

N/A

3

N/A

0.063 in

N/A

0.270 in

N/A

Plain

N/A

Please Specify Qty to be Quoted. Item will be added to Quote Cart.
Proceed to Checkout in order to submit RFQ
Add to Cart

3316.054PL

N/A

T-316 Stainless Steel Wire Mesh - 3 x 3 Mesh, 0.054" Diameter Wire

N/A

3

N/A

0.054 in

N/A

0.279 in

N/A

Plain

N/A

Please Specify Qty to be Quoted. Item will be added to Quote Cart.
Proceed to Checkout in order to submit RFQ
Add to Cart