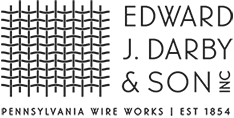 T-316 stainless steel is recognized as the second most widely available of all stainless steels in the wire mesh industry. T-316 stainless steel wire mesh is typically considered an alternative grade to T-304 stainless steel wire mesh and preferred in certain circumstances. Particularly, in marine environments and in applications requiring heavy welding, T-316 stainless steel is commonly specified due to its many benefits.
The popular specifications featured here are some of the more versatile and commonly requested items that industrial users select for their specific wire mesh requirements. Many of these items are stocked in full, 100FT rolls and can be provided in conveniently sized pieces, like 4FT x 10FT or 3FT x 25FT for example.
These meshes are specified for use in general industrial use applications, like heavy duty particle separation, water filtration and food processing. Industries that use these types of stainless steel mesh specifications typically include: pharmaceuticals, scientific, processing and automotive to name a few.
Designers and home owners also find many of these meshes suitable for use around the house and office in instances that require a higher level of corrosion resistance than T-304 stainless steel.
Add to Cart
4316.028PL

N/A

T-316 Stainless Steel Wire Mesh - 4 x 4 Mesh, 0.028" Diameter Wire

N/A

4

N/A

0.028 in

N/A

0.222 in

N/A

Plain

Add to Cart

4316.028WD

N/A

T-316 Stainless Steel Wire Mesh - 4 x 4 Mesh, 0.028" Diameter Wire

N/A

4

N/A

0.028 in

N/A

0.222 in

N/A

Welded

Add to Cart

4316.032WD

N/A

T-316 Stainless Steel Wire Mesh - 4 x 4 Mesh, 0.032" Diameter Wire

N/A

4

N/A

0.032 in

N/A

0.218 in

N/A

Welded

Add to Cart

4316.035PL

N/A

T-316 Stainless Steel Wire Mesh - 4 x 4 Mesh, 0.035" Diameter Wire

N/A

4

N/A

0.035 in

N/A

0.215 in

N/A

Plain

Add to Cart

3316.120PL

N/A

T-316 Stainless Steel Wire Mesh - 3 x 3 Mesh, 0.120" Diameter Wire

N/A

3

N/A

0.120 in

N/A

0.213 in

N/A

Plain

Add to Cart

3316.120IN

N/A

T-316 Stainless Steel Wire Mesh - 3 x 3 Mesh, 0.120" Diameter Wire

N/A

3

N/A

0.120 in

N/A

0.213 in

N/A

Intercrimp/Lock

Add to Cart

4316.041PL

N/A

T-316 Stainless Steel Wire Mesh - 4 x 4 Mesh, 0.041" Diameter Wire

N/A

4

N/A

0.041 in

N/A

0.209 in

N/A

Plain

Add to Cart

4316.047WD

N/A

T-316 Stainless Steel Wire Mesh - 4 x 4 Mesh, 0.047" Diameter Wire

N/A

4

N/A

0.047 in

N/A

0.203 in

N/A

Welded

Add to Cart

4316.047PL

N/A

T-316 Stainless Steel Wire Mesh - 4 x 4 Mesh, 0.047" Diameter Wire

N/A

4

N/A

0.047 in

N/A

0.203 in

N/A

Plain

Add to Cart

4316.054PL

N/A

T-316 Stainless Steel Wire Mesh - 4 x 4 Mesh, 0.054" Diameter Wire

N/A

4

N/A

0.054 in

N/A

0.196 in

N/A

Plain

Add to Cart

4316.063PL

N/A

T-316 Stainless Steel Wire Mesh - 4 x 4 Mesh, 0.063" Diameter Wire

N/A

4

N/A

0.063 in

N/A

0.187 in

N/A

Plain

Add to Cart

4316.080PL

N/A

T-316 Stainless Steel Wire Mesh - 4 x 4 Mesh, 0.080" Diameter Wire

N/A

4

N/A

0.080 in

N/A

0.170 in

N/A

Plain

Add to Cart

5316.032PL

N/A

T-316 Stainless Steel Wire Mesh - 5 x 5 Mesh, 0.032" Diameter Wire

N/A

5

N/A

0.032 in

N/A

0.168 in

N/A

Plain

Add to Cart

5316.035PL

N/A

T-316 Stainless Steel Wire Mesh - 5 x 5 Mesh, 0.035" Diameter Wire

N/A

5

N/A

0.035 in

N/A

0.165 in

N/A

Plain

Add to Cart

5316.041PL

N/A

T-316 Stainless Steel Wire Mesh - 5 x 5 Mesh, 0.041" Diameter Wire

N/A

5

N/A

0.041 in

N/A

0.159 in

N/A

Plain

Add to Cart

5316.047PL

N/A

T-316 Stainless Steel Wire Mesh - 5 x 5 Mesh, 0.047" Diameter Wire

N/A

5

N/A

0.047 in

N/A

0.153 in

N/A

Plain

Add to Cart

5316.054PL

N/A

T-316 Stainless Steel Wire Mesh - 5 x 5 Mesh, 0.054" Diameter Wire

N/A

5

N/A

0.054 in

N/A

0.146 in

N/A

Plain

Add to Cart

4316.105PL

N/A

T-316 Stainless Steel Wire Mesh - 4 x 4 Mesh, 0.105" Diameter Wire

N/A

4

N/A

0.105 in

N/A

0.145 in

N/A

Plain

Add to Cart

6316.028PL

N/A

T-316 Stainless Steel Wire Mesh - 6 x 6 Mesh, 0.028" Diameter Wire

N/A

6

N/A

0.028 in

N/A

0.139 in

N/A

Plain

Add to Cart

5316.063PL

N/A

T-316 Stainless Steel Wire Mesh - 5 x 5 Mesh, 0.063" Diameter Wire

N/A

5

N/A

0.063 in

N/A

0.137 in

N/A

Plain

Add to Cart

6316.032PL

N/A

T-316 Stainless Steel Wire Mesh - 6 x 6 Mesh, 0.032" Diameter Wire

N/A

6

N/A

0.032 in

N/A

0.135 in

N/A

Plain

Add to Cart

6316.035PL

N/A

T-316 Stainless Steel Wire Mesh - 6 x 6 Mesh, 0.035" Diameter Wire

N/A

6

N/A

0.035 in

N/A

0.132 in

N/A

Plain

Add to Cart

4316.120PL

N/A

T-316 Stainless Steel Wire Mesh - 4 x 4 Mesh, 0.120" Diameter Wire

N/A

4

N/A

0.120 in

N/A

0.130 in

N/A

Plain

Add to Cart

6316.041PL

N/A

T-316 Stainless Steel Wire Mesh - 6 x 6 Mesh, 0.041" Diameter Wire

N/A

6

N/A

0.041 in

N/A

0.126 in

N/A

Plain

Add to Cart

5316.080PL

N/A

T-316 Stainless Steel Wire Mesh - 5 x 5 Mesh, 0.08" Diameter Wire

N/A

5

N/A

0.08 in

N/A

0.120 in

N/A

Plain

Add to Cart